Crucial FX's RealTime Experience Engine Powers Innovative Gaming Experiences
BY: FG Team
16 December 2016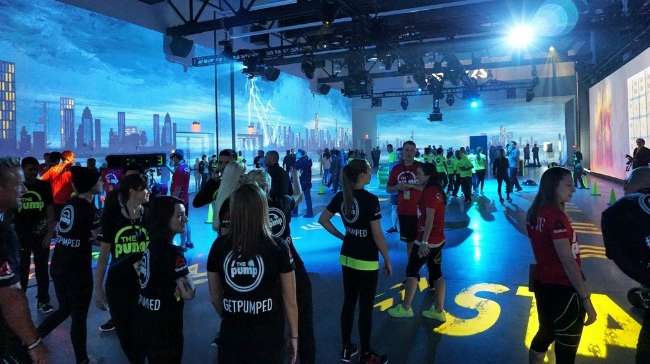 images: CRUCIAL FX
Crucial FX's RealTime Experience Engine and cutting-edge sensors are perfect tools for developing large-scale interactive games and challenges for experiential events.
Crucial FX's unique RealTime Experience Engine, high impact 3D graphics and advanced sensor technology are ideal tools for creating large-scale challenges and games that offer brands spectacular ways to introduce themselves to their customers. Crucial FX has created a number of interactive challenges that use sensors to track and measure physical activity and offer real-time graphical feedback that can be projected on screens, walls or buildings to immerse users in awe-inspiring experiential events and bring brands to life by engaging users with their message. The company's gaming solutions include a virtual triathlon with speed sensors integrated into bikes and a Coca Cola World Cup Skills test.
Based in Ellesmere Port, England, Crucial FX specializes in using light, sound, projection and virtual reality to create immersive interactive technologies and content for live events. The company's solutions are designed to create brand loyalty through unique experiential activation that presents brands in an entirely new light, allowing users to walk into virtual scenes and interact with people and objects in them in real time.
The company uses RealTime graphics designs that can turn any indoor or outdoor surface or wall into a giant interactive 3D touchscreen, transforming blank spaces into immersive experiences for a variety of applications. The company's Crucial Zone 4D Projection Booth with fully interactive ultra HD surround projection allows users to navigate virtual environments simply by touching walls. Their sensor technology and 3D graphics enable users to participate in live interactive events and control complex physical movements in real time. The company's clients include a number of industry giants, among them Coca Cola, Reebok, Nike, Adidas, Bacardi, and BMW.
Watch the video below to see how the company used immersive projection and advanced sensors to create an interactive experience for Adidas' Chaos and Control campaign with 360-degree projection on the walls and floors in a custom-built venue. The solution placed players in a virtual performance environment to test and measure their skills, including shooting, dribbling, accuracy and power, also allowing them to see their stats and share their results on social media.