Interactive Playsystems Bring New Energy to Inflatables and Indoor Playgrounds
BY: FG Team
9 January 2017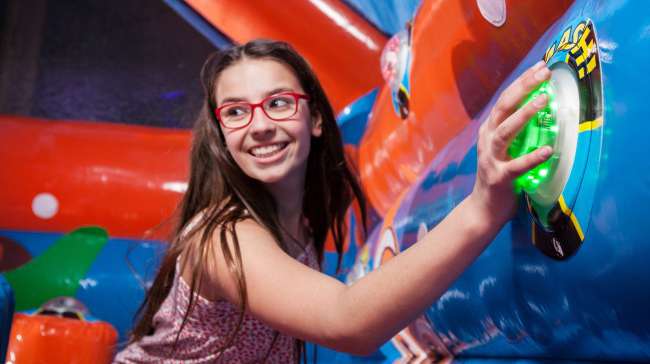 images: INTERACTIVE PLAYSYSTEMS
Interactive Playsystems use innovative technology to transform playgrounds, bouncing castles and other inflatables into exciting game arenas.
Interactive Playsystems use unique combinations of lights and sounds to deliver a range of exciting, competitive games for existing playgrounds and inflatable play structures. The standard mobile set for bouncing castles and other inflatables consists of a score panel and 10 interactive spots with 10 mounts used to attach the spots to inflatables. The set comes in a carrying case, which makes it a practical solution for professional rental. It is ideal for birthdays, parties and other kinds of events.
The Interactive Playsystem offers a variety of sound effects and other options to make the play experience more special and engaging. It comes with three game modes – Light Hunter, Steal the Light and Back to Base – to test players' hand-eye coordination, endurance and teamwork skills. The games offer a good workout and are suitable for kids, but also have a massive appeal to teenagers and adults. They challenge players to touch as many spots as they can by reacting to the interactive spots that randomly light up.
Light Hunter uses red and green lights and requires players to look for spots in their own colour to score as many points as they can. Steal the Light challenges players to always be the first to touch a spot to steal the most points. Back to Base requires them to select the base spot in green or red to determine which base they will return to. Every time a player touches an interactive spot, the system generates a sound that matches the overall theme, which is characterized by a specific combination of sounds, music and lights.
The Interactive Playsystem is wireless, mobile and easy to use. It is built for frequent use, almost unbreakable, and safe for kids. It can be used with different types of inflatables, including tents, moonwalks, jumpers, air mountains, bounce houses, slides, disco domes, and obstacle courses. Each set comes with free promotional materials that customers can use on their website to increase turnover and earn more on their inflatables rental without any extra effort.
The system can also be used to bring fresh energy to indoor playgrounds without adding extra space or large equipment. It can simply be attached to existing structures to turn them into fun play areas and create an interactive experience. The patent-pending system has CE and FCC certifications and complies with the NEN-EN 14960 standard. The sensors and case with display need to be charged only once every 2-4 days even if they are used throughout the day. The set is expandable and available with up to 20 interactive spots, as well as mounting holders of choice.
The solution was developed by Interactive Playsystems BV, a Dutch company specializing in creating unique interactive products that combine lights, sounds and games to deliver fun and challenging games and effects that instantly transform any space into an exciting play area. The company cooperates with JB-Inflatables, a manufacturer of a wide range of inflatables used for advertising, parties and events, to offer a diverse range of products for indoor playgrounds and different inflatable attractions. Watch the video below to see the experience Interactive Playsystems bring to inflatables.