MagixFloor Virtual Playground System Offers Interactive Games for Arcade and FEC Market
BY: FG Team
1 February 2017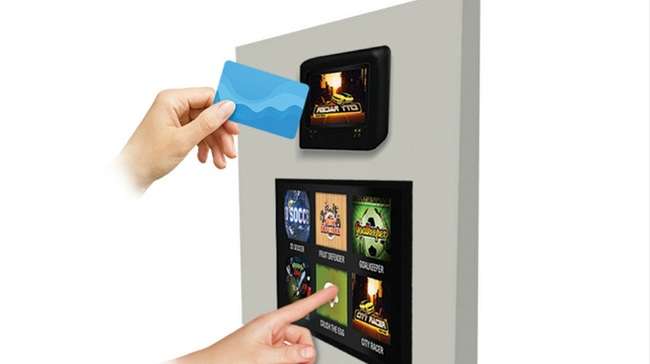 images: TOUCHMAGIX
TouchMagix's MagixFloor Virtual Playground System offers a variety of interactive games and now comes with an integrated ticket redemption option for customers in the FEC market.
The MagixFloor Virtual Playground System is an innovative concept for interactive floors designed for family entertainment centres and gaming arcades. Presented at the IAAPA Attractions Expo 2016 in Orlando, Florida in November 2016, the system uses 3D gesture tracking and proprietary software to respond to players' actions in real time and to challenge players to interact with the play surface using their hands or feet. The new concept uses a ticket redemption option to allow customers to simply pay and play. It currently offers seven redemption game and over 50 non-redemption game options for users to choose from. The games are fun and simple to play, designed mainly for younger players.
MagixFloor uses an integrated ultrabright projector to create an interactive playground between 6'x4' and 10'x8' in size, depending on the height available at the location. Free-play versions of the popular floor are used in more than 60 countries around the world. The arcade version, developed for the FEC market, includes a wall model and offers coin versions of games such as Soccer, Brick Breaker, Meteor Attack and Chase the Monster. Users can simply swipe a card to select a game and start playing. The existing non-coin versions are also available for purchase to customers in the entertainment market. More than 100 gaming options in total are available for the system, ranging from puzzles to sports-themed games.
The MagixFloor Virtual Playground System was developed by TouchMagix, a global leader and innovator specializing in creating interactive play platforms for a varied range of applications. The company's technology can be used to create large interactive floor and wall surfaces for use in presentation centres, corporate showrooms, museums, hospitals, retail stores, lounges and family entertainment centres.
Watch the video below to see some of the gaming options available with the new MagixFloor.
Related news:
MotionMagix Encourages Learning Through Fun Interactive Play
MotionMagix Wall Engages Conference Visitors with Interactive Content
MotionMagix Floor and Wall Bring Interactive Fun to Any Environment
Team Building with MotionMagix Interactive Wall