Voxel VR Arcade Machine Delivers Virtual Experiences Without a Headset
BY: FG Team
13 January 2017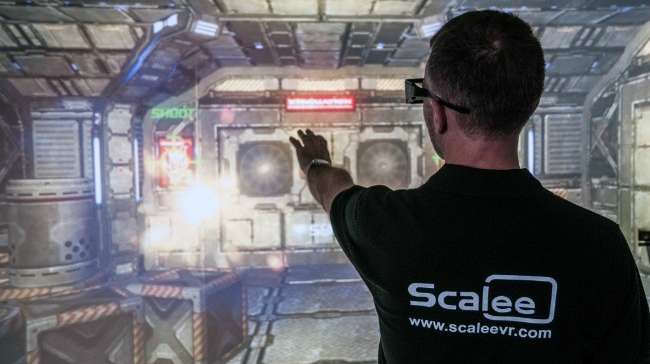 images: SCALE 1 PORTAL
Scale-1 Portal offers a unique entertainment solution with the Xscape Entertainment Centre and Voxel, the first standalone VR-based arcade machine.
French immersive technology developer Scale-1 Portal has a unique VR solution that brings new sensations and dimensions of virtual experience to gaming. The Xscape Entertainment Centre with the Voxel arcade machine allows players to walk into different games and fully immerse themselves in virtual worlds through natural interaction with the content. Voxel delivers virtual experiences without a headset, putting players right inside an immersive environment and allowing them to interact with 3D computer simulations while wearing a simple pair of 3D glasses.
Voxel is the world's first standalone solution that combines arcades with virtual reality. It is an autonomous, coin-operated arcade machine that offers an unprecedented level of immersion with dedicated content available from Scale-1's online catalogue. The platform uses Kinect sensors to track players' body movements and translates their actions into games projected on a wall. The Voxel arcade is available with two games: Robots Frag and Future Runner. Robots Frag is a shooter game, while Future Runner challenges players with an intense obstacle course set in a futuristic world.
The Voxel platform offers a range of exclusive virtual games. One of these, Pirates Attack, is a shooting game that can be played by the entire family. Another game, Immersive Coach, was designed by professional sports coaches to give players a good workout while engaging them in an exciting virtual world. The platform offers a particularly motivational experience as the users do not need to wear helmets, sensors or wires to fully enjoy the fun and challenges offered by the virtual environment.
Immersive Coach is a technology that can also be integrated into gyms and fitness centres, where it can easily transform existing walls and floors into areas for interactive fitness to immerse users into a new universe. The 3D glasses make the walls and floors come to life and the games challenge users to bypass obstacles, bend down to avoid walls, or cross narrow bridges to progress.
Watch the video below to see the gameplay experience with Voxel.
Related news:
SCALee VR Technology Lets Users Become Part of Virtual Worlds