Yalp Fono Lets Teenagers Play in First Outdoor DJ Booth
BY: FG Team
13 January 2016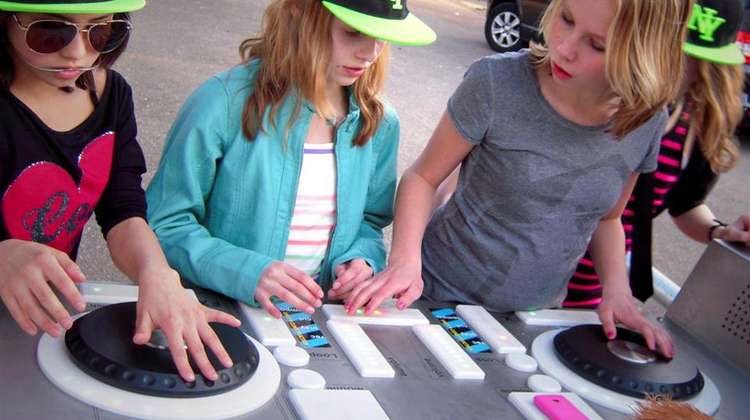 images: YALP INTERACTIVE
The Yalp Fono, an outdoor, eco-friendly DJ booth developed for teenagers, offers an entirely new way to play, be creative and interact.
The Yalp Fono, an innovative green outdoor DJ booth developed by the Dutch company Yalp, offers young people an entirely new way to play, share music, be creative and interact with their peers. Developed as a meeting place for young people, the Fono lets users mix and create music, and serves as an outdoor hangout spot that can be set up in parks, entertainment centres, schools, playgrounds, squares, shopping malls, museums, and other public areas.
The concept was designed to tap into teenagers' heavy use of cell phones, as well as their need to be creative and socialize, and it offers them a fun alternative to playing music on their phone in isolated settings. The Fono allows them to be heard, have fun, and develop their musical skills while playing and dancing with their friends. All they need to do is place their smartphone on the Fono's pickup pad to start creating different DJ effects and mixing their music.
The DJ booth was developed to amplify any sound coming from a mobile phone, offering an endless variety of musical experiences, sounds and effects that can be achieved using the touch sensitive pads. The decks are based on a professional DJ set and come with a crossfader, as well as filter, pitch, scratch, delay, crush and flanger effects. The volume settings can be adjusted to keep the noise level in check in schoolyards and public parks.
"DJ'ing was "born" in an urban environment; in the streets. Now we've brought it full circle with the Yalp Fono. We're looking forward to hearing members of the newest generations of DJ's actually attributing the start of their journey to a Yalp Fono placed in their neighborhoods." - said Yalp's R&D team.
The Yalp Fono is available as a complete concept, with a dance floor, roofing elements and street furniture. It is vandalism resistant and built for heavy public use. The electronic parts are encased inside the concrete DJ table, making the system safe and weather-proof.
The Fono can be used indoors or outdoors and runs on regular mains or solar power. Solar panels are fitted to the roof and the Fono also uses a battery system that is charged during the day so that the set can be played at night. The system does not require an internet connection or Bluetooth. Watch the video to see it at play.