Coyotta Offers Interactive Experience to Enhance Training Programs
BY: FG Team
15 March 2017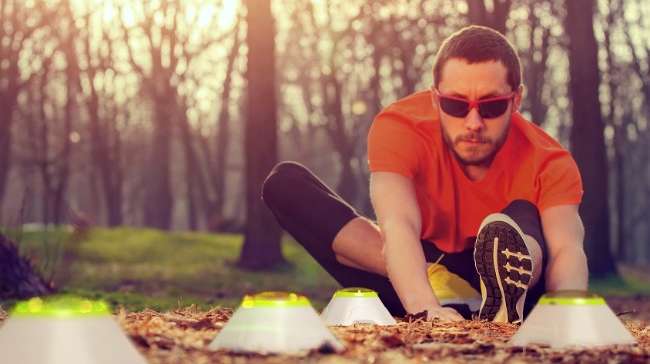 images: PLAY COYOTTA
Coyotta delivers an engaging interactive fitness solution that uses cognitive stimuli to deliver a varied range of options for intense balance, strength, speed and agility workouts and personalized training.
Coyotta offers a fully interactive training method developed for gyms, fitness clubs, personal trainers and individual users, easily accessible and controlled via mobile devices. The solution uses smart touch devices called Yottas to deliver high intensity training while simultaneously eliminating the monotonous elements of conventional workouts to increase user engagement. The interactive audiovisual devices can detect users' movement and touch and they randomly light up to test users' reaction skills with a series of unpredictable stimuli.
The Yottas can turn any surface into an interactive playground and offer a range of diverse training options. Combined with the Yotta Training app, they deliver a unique mobile fitness solution that keeps users motivated as they work to reach their personal fitness goals. The app can be adapted to each individual user, while the devices can be used both in structured training sessions with a personal trainer at the gym and in the living room or outdoors, for fun social workouts with friends.
The Yotta Training app offers a personalized fitness experience and a range of exercise programs for balance, strength, speed and agility training that deliver results without insisting on the same repetitive movements or routines. The solution is primarily targeted at personal trainers and gym instructors as it offers countless ways to enhance existing training programs using engaging cognitive stimuli to add some variety to the exercises and keep the users' minds off the effort they are putting into them.
The Yottas are available for purchase, while the training app is free, with in-app content also available for purchase. The additional content includes various personalized training options, workouts and routines developed by established fitness trainers.
The training solution was developed by Play Coyotta, Ltd, an Israel-based company specializing in mobile sports technology. See some of the options available with it in the video below.
According to the latest update from Coyotta's CEO Yaniv Shneiderman, BlazePod, Coyotta's first product, was launched on Kickstarter a few days ago. You can learn more about it by clicking on their Kickstarter page.

We will write more about BlazePod in the days to come as we believe this is a product with great potential!