Fitbit Announces Partnerships with Habit, Peloton and VirZOOM
BY: FG Team
16 January 2017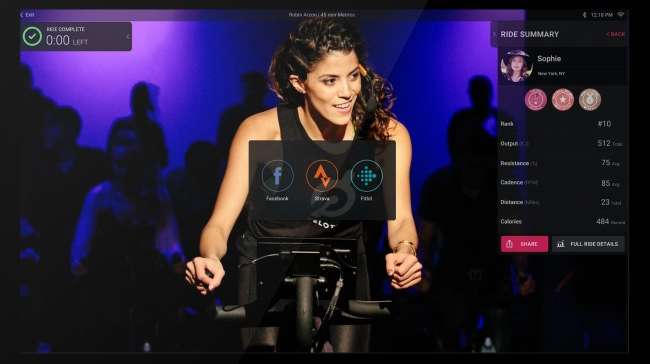 images: FITBIT, PELOTON, VIRZOOM
Fitbit has announced new partnerships as part of the Works with Fitbit program that will integrate Fitbit data with VirZOOM VR bike rides, Peloton cycling classes and Habit's personalized nutrition recommendations.
Fitbit has partnered with three leading brands in the health and fitness market to make it even easier for users to reach their personal fitness and wellness goals. The three new partnerships – with VirZOOM, Peloton and Habit – are part of the company's Works with Fitbit program, which lets brands, developers and users connect Fitbit to a number of wellness apps, services and hardware to support healthier, more active lifestyles.
Fitbit was the first company in the segment to offer an open application programming interface to facilitate integration with a range of health, wellness, hospitality and gaming solutions, as well as exercise equipment, and make it easy for users to track and measure all their health and fitness stats in a single app.
Fitbit users can now integrate data from three valuable new sources. VirZOOM technology transforms regular or stationary bikes into VR gaming machines to immerse users in games while they are exercising, while Peloton bikes and software offer a socially connected indoor cycling experience with live and on-demand cycling classes. Habit offers a science-based personal nutrition solution that uses blood tests, DNA samples, and self-reported body metrics and goals to deliver personalized nutrition plans and recommendations.
Peloton will now share post-ride metrics with the Fitbit app to provide users with insight into the impact of its cycling classes on their overall fitness and health. Users will be able to see their workout data, including time, distance and calories burned, after each Peloton ride, which will be logged as an exercise in the Fitbit app.
VirZOOM, a company that offers a range of online multiplayer VR sports games, will give players credit for their VR bike rides directly in their Fitbit app. All of users' VirZOOM vSports and VirZOOM VR bike play will automatically sync to their Fitbit account and each workout will be logged as an exercise, with key workout data captured in the Fitbit app. This means that Fitbit users can work to achieve their fitness goals and track their progress while commanding a tank, racing F1, or riding a virtual horse. Peloton and VirZOOM riders using Fitbit Charge 2 or another Fitbit device to monitor their heart rate will also see their heart rate data in the exercise log.
Habit, a platform that offers the world's first complete solution for customized nutrition plans, uses more than 60 biomarkers to create personalized plans and fresh, doorstep-delivered meals. The web-based service will now use Fitbit data on weight, calories burned and body fat percentage as biometric data points to adjust calorie recommendations and make personalized daily nutrition suggestions. Fitbit and Habit have plans to expand the partnership to include other Fitbit data, including fitness goals and sleep stats, into the Habit platform.
Fitbit is a market leader with the top downloaded app for connected fitness devices and an entire range of products that work seamlessly together on computers, tablets and smartphones and are compatible with other apps. Companies can greatly benefit from partnering with Fitbit because their users get an easy way to track their progress and see how their activity is paying off 24/7. The Works with Fitbit ecosystem already includes thousands of popular fitness, health, entertainment and gaming apps and services, including Strava, MyFitnessPal, MINDBODY Connect, Lose It!, Weight Watchers, and MapMyFitness.
Fitbit's new partnerships were announced at CES 2017 in Las Vegas, where the company presented its entire platform of connected fitness and health solutions.
Related news:
Fitbit Charge, Charge HR and Surge Introduce New World of Fitness
Peloton Brings Group Cycling Classes to Your Home
VirZOOM Virtual Reality Bike Turns Fitness into an Action-Packed VR Experience