Racewood's Racetrainer and Jumping Simulator Presented at 2014 Dubai International Horse Fair
BY: FG Team
27 March 2014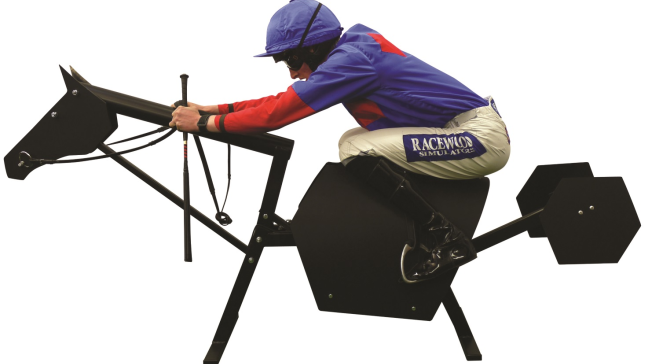 images: RACEWOOD
Racewood's new Jumping Simulator and the Racetrainer were featured at the 2014 Dubai International Horse Fair, held from March 20 to 22 in Dubai.
Racewood Equestrian Simulators presented two of its products at the 10th Dubai International Horse Fair, which ran from March 20 to 22 in Dubai, UAE. The company unveiled the new Racetrainer, a fitness machine designed to help jockeys improve their fitness levels, and the new Jumping Simulator, a fully programmable interactive horse simulator.
The recently launched Jumping Simulator is a versatile training machine. It can walk, trot, canter, gallop, and jump. For more variety, users can program the simulator to refuse a jump or simulate a fall. The new simulator can perform show jumping and cross country at different levels. The simulation of movement in all gaits is very realistic, with the head, neck and body moving independently. The Jumping Simulator uses pressure sensors to collect information for the saddle, legs, reins, neck, and stirrups.
The Racetrainer is a training device designed to work the muscles for winning a race. It is an interactive simulator, providing heart rate data and recovery period assessment, and with aerobic and anaerobic zones marked. The simulator allows jockeys to engage in training programs consisting of a warm-up, aerobic and anaerobic training, and recovery. The Racetrainer is easy to pack and jockeys can take it with them to the track and use it to warm up before the race. Studies over the years have shown that jockeys win more races after they have warmed up.
Based in Tarporley in the UK, Racewood specialises in developing racehorses and riding simulators. The company designs and manufactures horse simulators for every aspect of riding: polo, dressage, racing, and general riding. Their fully interactive models include the MK9 Racehorse, the Ridemaster, and the Dressage Simulator.