Xelerate Takes Physical Performance to the Next Level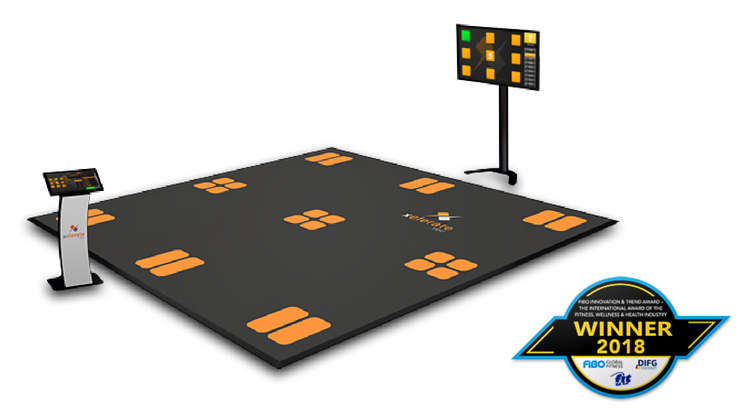 images: STARTEC MEDIZINTECHNIK
Xelerate is a goal-orientated fitness product which is designed to harmonize and hone cognitive and physical skills through enjoyable activities.
It is easy to judge an innovative product by the reception it receives on a worldwide scale, and Xelerate is one that has been widely applauded. Earlier this year, Xelerate won the FIBO Innovation and Trend Award 2018, which highlights its potential. Now, Xelerate is a fitness concept which aims to develop physical performance, cognitive capabilities and reaction time. 
It was created by the renowned German manufacturer, Stratec Medizintechnik GmbH, with assistance from their spin-off company, Novotec Medical GmbH. Like they have done for the past 30 years, they sought guidance from a multitude of international research groups to ensure Xelerate is supported by science, medicine and fitness studies. 
The revolutionary product consists of a power-area with 24 integrated sensors dotted around. Those sensors identify and record elements such as distance, velocity and reaction time over 1,000 times per second, which guarantees pin-point accuracy. That data is then showcased on a 65-inch display screen, alongside feedback and improvement suggestions. The system is very versatile, and there are a variety of exercise tasks to choose from depending on your goal.
Moreover, there is also a selection of training modes; group training for up to 9 people, team training for tactical work and individual training for personal development. Regardless of the training mode, there should be a trainer present who can utilize the 24-inch touch controller so monitor the session.
There are some core aspects of improvement which the Xelerate concept guarantees. The first is the cognitive function because when it comes to fitness, your mind is a huge component of success. This fitness concept taps into your motivation, determination, perception and peripheral vision.
Secondly, without sufficient motor function, you'll struggle to progress. So, Xelerate helps with speed, coordination, endurance and strength. Lastly, fitness is all about your physical ability, and the concept allows you to improve your cardiovascular system and overall physical function.
With Xelerate, there are some alternative options which you can choose to push yourself even further. Firstly, instead of opting for the x500, you could decide to acquire the x600 which is a bigger area, so subsequently more challenged. Secondly, there's the Xelerate Pro, which is designed for athletes or those who are serious about fitness. 
Xelerate Pro
If you truly want to test and develop your ability, there's a professional opportunity which incorporates elite level training tasks. It will assess your strengths and weakness, analyse your performance, and break everything down into easy-to-read numbers. Everything will then be displayed on the 65-inch screen.
Success at the top level of any sport comes down to fine margins, and any advantage you can have over your opponent or the clock will put you in a great position. The goal-orientated nature of Xelerate will help instill a winning mentality, the unique style will help build power, movement and endurance, while the cognitive element will help with game management, information processing and decision-making. 
If you really want to see Xelerate in action, take a look at this video below: