Golf & Body NYC Uses HD Golf Simulators to Take Golfers' Game to the Next Level
BY: FG Team
26 November 2014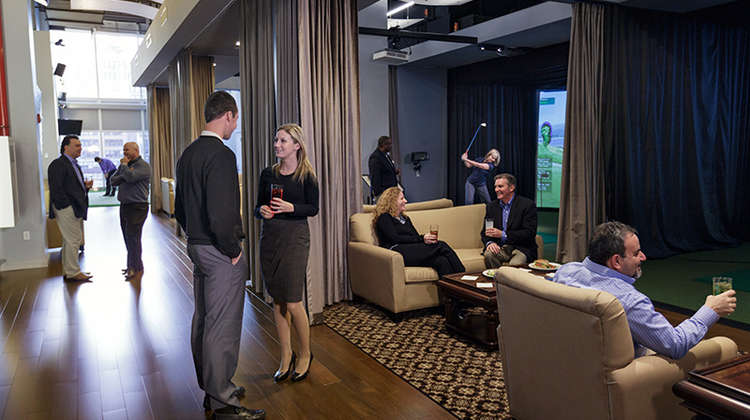 images: GOLF & BODY NYC
Golf & Body NYC, a premier golf and fitness facility in New York City, uses HD Golf simulators and other cutting edge technologies to help golfers perfect their swing.
Golf & Body NYC is one of the many golf facilities that use High Definition Golf simulators to help golfers improve their swing. It is a private club with limited membership that offers golfers a variety of options and innovative programs to enhance their game, improve their fitness level, socialise with friends, and enjoy different kinds of golf-centered entertainment. The club has a team of experts in golf, sports medicine and fitness to help golfers get fit, evaluate their game, and help develop customised programs to maximise their performance. Located in the heart of Manhattan, the 25,000 square foot facility provides serious golfers with the best equipment and customised training programs which combine swing training, fitness training, conditioning and even physical therapy.
Golf & Body NYC has seven HD Golf simulators, developed by indoor golf technology pioneer Interactive Sports Technologies Inc. (IST), to provide members with a realistic indoor golf experience and measure the key ball and club statistics. The simulators use the proprietary IST High Speed Spectrum Sensor technology to deliver highly accurate club and ball tracking. The stats include ball speed, club face angle, spin rate, spin axis, and launch angle. Unparalleled on the golf simulation market, HD Golf simulators use a number of training tools including weight transfer plates and video swing analysis to help optimise golfers' performance. The systems' range of training and teaching tools makes them a popular choice among some of the world's best golfers and instructors.
The integrated Professional Golf Instruction Studio provides golfers with advanced diagnostic tools for motion analysis, weight transfer, shot data, video evaluation, and swing dynamics. Golfers looking to use the simulators available at the Golf & Body NYC club have PGA professionals to assist and guide them through their training program, and to assess their technique. The simulators can be used for golf instruction, club fitting or entertainment, and are widely used among golf centres, luxury hotels and resorts, cruise lines, sports bars, and golf academies around the world.
HD Golf simulators allow golfers to experience some of the world's most famous golf courses, including Kiawah Island, Pebble Beach, Spyglass Hill, Casa de Campo, Troon North, Bethpage Black, St. Andrews, and Pinehurst, and to combine the virtual experience with a varied range of training options to improve their performance. The simulators offer a highly accurate reproduction of each golf course, as the advanced image processing software uses digital images, as well as geophysical and satellite data to create highly realistic 3D models.
Along with HD Golf simulators, Golf & Body NYC uses other advanced technologies to help improve golfers' full-swing and short-game performance. The training tools available at the facility include the TrackMan ball-flight analyser, the Sam PuttLab training system, and the AMM 6D Walkabout 3D motion analysis software. TrackMan can measure the trajectory of any shot while delivering stats and 3D imaging of ball flight. Sam PuttLab uses ultrasound to analyse golfers' shots and measure 28 different parameters of the putting stroke. AMM 6D Walkabout creates a 3D model of each swing to provide golfers with a better insight into the relationship between body and club movement.  
For more information please visit www.golfbodynyc.com