INJOY Dorsten: Holistic Health and Fitness Program for Life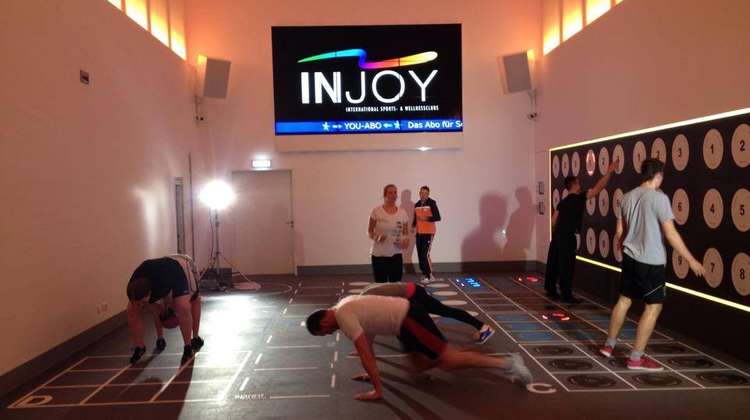 images: INJOY DORSTEN, FACEBOOK; PAVIGYM
The INJOY gym in Dorsten, Germany offers members a variety of fitness courses and group fitness options. Pavigym's PRAMA concept is one of the innovative solutions used in INJOY's Energy programs.
The INJOY fitness club in Dorsten offers a varied range of training options to members, including aerobics, pilates, yoga, spinning classes, and a number of other fitness courses to cater to members' needs. The courses cover everything from strength training and sculpting to endurance training and aerobics. The gym doesn't only offer fitness activities, but also training sessions to address balance, back problems, and other health issues that require intervention in the form of exercise.
INJOY, however, is much more than a place where people can train their bodies. Each INJOY fitness studio provides members with a holistic concept that puts their health and well-being at the centre. INJOY studios use advanced training equipment and a highly trained staff to offer care programs tailored to individual members and provide the members with health-oriented training and tools to improve their fitness level, health, and quality of life. With an extensive range of equipment, outstanding support during training, individual counselling, and a friendly staff to guide and support the members, INJOY goes far beyond being a fitness centre. This, no doubt, is why the gym chain has garnered a membership of around 195,000 in Germany alone.
INJOY works closely with Dr. Elke Zimmermann of the University of Bielefeld to create a scientific basis for various training programs offered at the gyms. INJOY trainers attend regular professional training courses through the INLINE Academy to ensure that they can always provide members with top quality service, support, and advice. With 40 training locations, the INLINE Academy is one of the largest providers of education in the fitness and wellness industry. The Academy exclusively provides all the training and education necessary for the staff employed at INJOY gyms across Europe.
Among other activities, the INJOY gym offers members an interactive fitness experience with Pavigym's PRAMA concept, which uses advanced interactive technologies to create a new kind of fitness environment for users of all ages. Using high quality flooring and special effects, PRAMA reinvents the gym experience by optimising any indoor environment. Along with adding a versatile range of applications to gyms and fitness facilities, the PRAMA concept allows instructors and trainers to change the atmosphere and mood of the room, and to make the experience more dynamic and appealing to members.
The PRAMA programs at the INJOY Dorsten fitness centre have proven quite successful at drawing new members and retaining existing ones. The interactive experience was introduced to the gym in January 2014 and has since helped grow membership, reach new target groups, and offer existing members an innovative, motivating way to exercise.
Pavigym's innovative fitness concept is used in several Energy programs offered at the INJOY fitness centre: Energy Back, Energy Cardio & Core, Energy Fit, and Energy Party. These programs offer members metabolic and functional training to improve their endurance and strength. The addictive training programs are limited to 14 participants per session.
Apart from fitness training, INJOY specialises in back and spinal health, offering members safe, targeted, and effective training programs for the prevention and rehabilitation of back problems. The programs are not designed only for people suffering from back injuries, but they also address the consequences of sedentary desk jobs and lifestyles, hard physical labour, and long car trips, which can all lead to muscle degeneration, loss of muscle mass, and less stability in the body over time.
INJOY trainers are trained professionals who always make sure that members' individual needs are met, their expectations and goals understood, and any health issues taken into account. Members get support before, during, and after training sessions, and the trainers are always up to date with the latest scientific and health research related to health and fitness. The trainers work with the members to create personalised training plans and schedules, and to provide them with insight into the benefits of various fitness activities available at the fitness studio. Members are always accompanied by their instructors during the first exercise to make sure that all their questions are answered and that they get the support they need to train as safely and efficiently as possible.
The gym also offers weight loss programs, helping members learn about good eating habits, healthy living, and exercise. With 3-week, 8-week, 10-week, and 12-month weight loss programs, INJOY trainers show members how to reach their goals through targeted training and how to maintain a healthy, sustainable weight in the long term. Along with the weight loss programs, the gym offers the INJOY nutritional analysis for those looking to improve their diet and eating habits. The program provides members with a computerised analysis of their nutrient intake and nutrient composition based on a 7-day food diary.
Based in Dorsten, INJOY Quality Cooperation GmbH is a German fitness studio franchisor with 166 gyms in Germany and over 200 studios across Europe. In 2012, INJOY was named the best gym chain by the German Institute for Service Quality.
For more information please visit www.injoy-dorsten.de