AbleX Rehabilitation System Offers Progressive Recovery for Stroke Patients
BY: FG Team
20 January 2017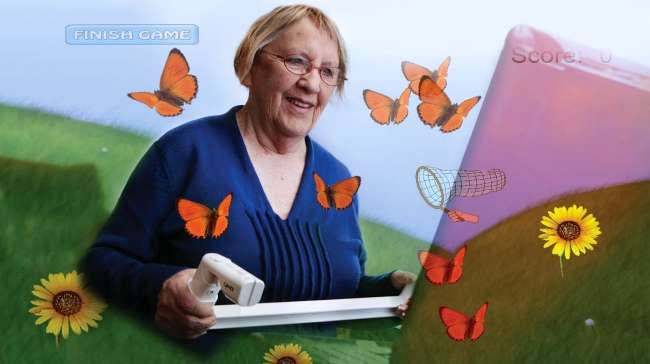 images: IM-ABLE
The ableX system is a versatile plug & play rehabilitation platform that offers therapeutic games for patients recovering from a stroke or brain injury.
The ableX system is an innovative platform that provides high intensity task-based rehabilitation for stroke and neurological patients. The platform was originally developed for people to use at home, but is now used by healthcare specialists in a range of settings, from acute care to home care. The rehabilitation system consists of handheld control devices and software with therapeutic games. The games were developed to stimulate neural plasticity and provide progressive recovery for an injured brain, as well as rehabilitation for stroke-affected hands and arms.
The games available with the ableX platform are simple and fun to play. They provide physical and cognitive stimulation in the form of repetitive and intense exercises to improve upper limb function while simultaneously taking the focus away from the effort required to perform up to 1,000 repetitions. The interactive games allow patients to integrate recovery into their daily routine, to practice independently, and speed up their rehabilitation process. Each game provides progressive levels of difficulty to increase accuracy, focus and speed.
The ableX handlebar helps patients increase their control, strength and range of motion, improving their ability to perform everyday tasks and supporting their independence. Patients who are unable to lift their arm by themselves can use the ableM arm skate to get some movement back before progressing to the ableX handlebar. The process typically takes a few weeks. The ableM device can also be used to improve independent finger movement later in recovery. Both devices have shown clinically significant improvements in clinical trials, with stroke patients showing improved range of motion after only a few hours of prescribed use. Participants also reported better coordination, balance, concentration and wellbeing.
The ableX system requires a desktop or laptop computer with Windows 7 or a later release. It does not require an Internet connection. The platform was developed by ableX healthcare Limited and is regulated and available for sale or rental in the UK and Europe, the United States, Australia and New Zealand and parts of Asia. The ableX Pathway service, offered to health professionals, provides prescription support and personalized training routines tailored to meet patient goals.
Watch the video below to hear more about the benefits of using the platform.