ArmeoSpring Improves Outcomes in Functional Arm and Hand Rehabilitation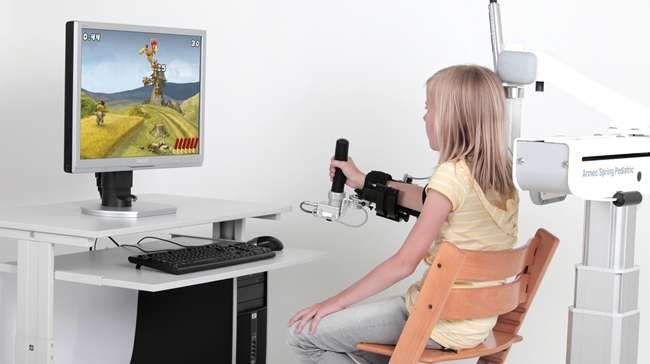 images: HOCOMA, SWITZERLAND
Hocoma's ArmeoSpring is an exoskeleton that uses an integrated spring mechanism and a series of fun interactive games to help with the rehabilitation of patients who are starting to regain active movement in their arms and hands.
The ArmeoSpring is a sophisticated exoskeleton designed to assist in the rehabilitation of patients with impaired function of arms and hands. The device uses interactive games to motivate patients to keep going through different sets of repetitive exercises to regain arm and hand function. It has an integrated spring mechanism that provides gravity compensation for the impaired limb, helping patients perform various self-initiated therapeutic exercises that improve their selective control and increase the range of motion in the impaired limb. The exercises themselves demand high levels of focus and coordination.
The ArmeoSpring was designed to embrace the whole arm and counterbalance its weight to assist active movement across a large area. Additionally, the exoskeleton enhances any residual neuromuscular control and function in the affected arm, and offers better long-term outcomes in therapy, especially in motor ability.
The ArmeoSpring allows therapists to choose specific sets of exercises and set the difficulty level to suit the patient's ability. As the patient performs the exercises, the therapist can identify any compensatory movements or spasticity and assess the speed and precision of the movements.
While training, patients can see their hand displayed on the screen and get augmented performance feedback in real time. The technology simulates a range of everyday activities and offers therapeutic benefits through a series of exciting computer games. In addition to the functional exercises, the Armeo software offers assessment tools to evaluate the patient's coordination and motor ability. As the patient performs the exercises, the integrated sensors record the active arm movement at each joint and send the data to a computer. The data can then be used by therapists to assess the patient's performance and document his or her progress in rehabilitation.
The ArmeoSpring is used in rehabilitation clinics worldwide to treat stroke and traumatic brain injury (TBI) patients and those suffering from other neurological disorders.
To learn more about the device and its benefits in rehabilitation, watch the video.