Bionautica Boosts Engagement and Retention with Immersive Virtual Worlds
BY: FG Team
27 February 2017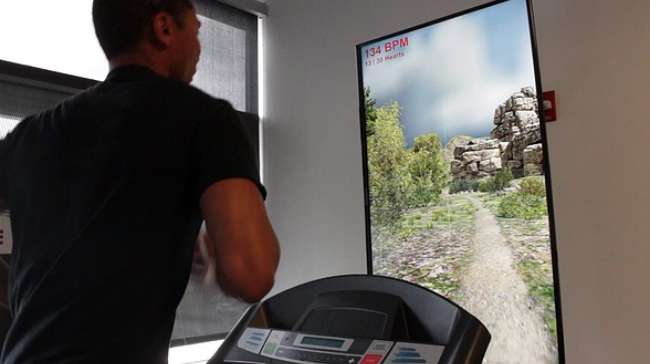 images: PLAS.MD
Bionautica is an innovative fitness and therapy platform that uses compelling game-based elements and virtual worlds to engage patients in rehabilitation and motivate them to complete their prescribed programs.
Bionautica is an immersive, biometrically driven fitness and physical therapy platform designed to engage patients with a compelling narrative and vivid virtual worlds. Developed by Plas.md, the platform is particularly well suited to patients recovering after a heart attack, who often quit therapy before completing their prescribed program because of the length of treatment and slow recovery process. Participation in such programs can significantly affect recovery and reduce the risk of death, which is why engaging patients in therapy is crucial to a successful convalescence.
Bionautica offers a game-based interactive solution that combines immersive virtual environments and gamification techniques to improve adherence and increase engagement in cardiac rehabilitation and other health and fitness programs. Developed for use with the treadmill, the platform encourages patients to complete various challenges by discovering and unlocking secrets and exploring the history of fictional locations. The virtual environments are rendered in real time and they are not limited to real world locations. They offer users a colourful landscape with about 20 miles of trails to explore, including a 4.5-mile section with full interactivity.
Bionautica's immersive environments also make the platform an excellent solution to boost retention in fitness and health clubs. The platform streams biometric data, including heart rate, motion data and skin temperature, and uses it to tailor the experience to each individual user. It currently uses the Microsoft Band and will offer support for other devices down the line. With multi-player features in development, Bionautica will also allow players to compete against one another, boosting engagement even more.
Based in Philadelphia, Pennsylvania, Plas.md is a creative studio that uses virtual reality, augmented reality, artificial intelligence, wearable devices and other next-generation technologies to create immersive solutions for health, wellness and education. The company's team of engineers, biologists, artists, storytellers and game designers combine innovative technologies with unique experiences to enhance wellness, improve performance and help users attain a better quality of life.