BoBo Products for Gamification of Physical Therapy and Training
BY: FG Team
7 December 2021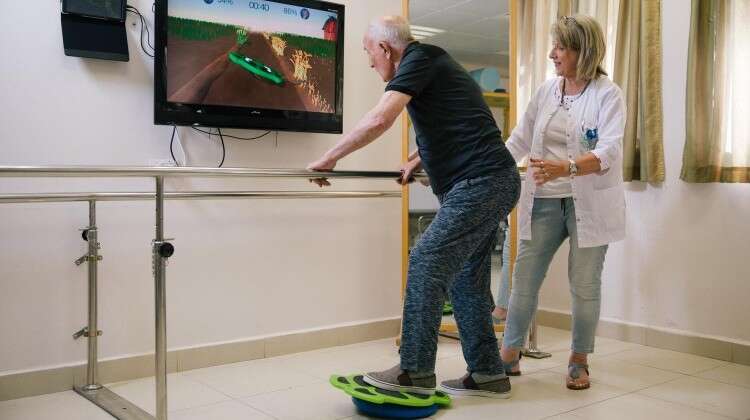 images: BO&BO
BoBo provides professional rehabilitation and training equipment connected with fun interactive games, exercise programs and reports for you, your therapists or trainers.
The story of Bo&Bo Ltd., a company led by physiotherapists, revolves around creating hi-tech products for traditional rehabilitation and training markets. BoBo creates a fully interactive training platform that makes rehabilitation fun and available even without therapists in the room by connecting fitness and health equipment with wireless connections and a smart training platform.
There are several products in BoBo's portfolio, including professional fitness and rehabilitation equipment and innovative companion application. The platform also supports third-party games, so users can exercise by playing connected games on a tablet, smartphone or TV. This interactive approach increases the engagement of the patients. In addition, higher quality of training and better experience increases participation and attendance at sessions.
The platform makes rehabilitation fun. Challenging exercise and strenuous rehabilitation processes can transform training into a motivating gaming experience. Once rehabilitation training becomes rewarding and fun, there is a higher chance of success. The companion software has personalized training programs that keep track of performance and progress while preserving all data. So you or your medical help can get quick feedback about the success of the exercise and your progress.
BoBo products are suitable for remote telerehabilitation. Medical experts can monitor patients' performance, make changes across the platform, and patients can continue with the rehabilitation from their homes.
BoBo Product Overview
BoBoBike is a rehabilitation device that is suitable for various forms of rehabilitation because of its unique features. For example, the APT trainer combines Active, Passive and Passive Assist types of training and exercise. As a result, you can improve strength, increase stamina, or work on your fitness. The device is small and you can use it while seated in a chair, in bed, or from a wheelchair. With only 10 kg, you can have a small but effective training assistant that can be stored in a closet when not in use. ATP trainer or BoBoBike helps with stamina, balance, walking, endurance, motor skills, reducing spasms and many more health problems.
ATP Trainer works as a standalone device, or together with Grow & Tell app. You can play the app on a mobile phone, tablet, computer, or smart TV. The software lets you set goals and the level of resistance. On a tablet or other monitor, you can follow progress with the feedback data or play one of the available games to make exercise more fun. The app records your activity and a physician or physiotherapist can see your progress and make adjustments to the program.
The BoBo motion sensor is a small device you can use on your hands or legs. It enables real-time joint motion tracking on your smartphone. The Bluetooth Motion Sensor measures patients' ROM and compliance. There is also an element of gamified experience with available games. Your physician can create exercise sets and track the patient's performance.
The app that goes along with the motion sensor has a database of pre-set rehabilitation protocols. The app collects data and creates detailed reports along with performance graphs. BoBo motion sensor supports 3rd parts tilt games like snowboard, car races and many others, making rehabilitation fun.
BoBoHome and other Balance Boards
BoBo has four products in its balancing board portfolio. The basic model is BoBoHome, a 36 x 36 cm board that offers rudimentary options from an otherwise rich platform. In addition, you will get 11 included games, predefined training programs and balance tests.
Balance-based fitness products convert core training into interactive games. You can get real-time feedback and performance data through the mobile app. BoBoProLite is a slightly bigger balancing board that adds customized training programs, advanced rehabilitation protocols and progress tracking. You can have Multiple patient overview and options to export reports. BoBoPro adds a wearable motion sensor, support for third-party games and a TV box Android console. BoBoPro+ is a high-end product with all functionalities and a 19" touch screen console for interactive exercise.
In the following video, you can see how BoBo Balance and Motion sensor devices work and familiarize yourself with countless smart training options.