C-Mill Treadmill Uses Projected Graphics and Virtual Worlds to Improve Gait Stability
BY: FG Team
27 January 2017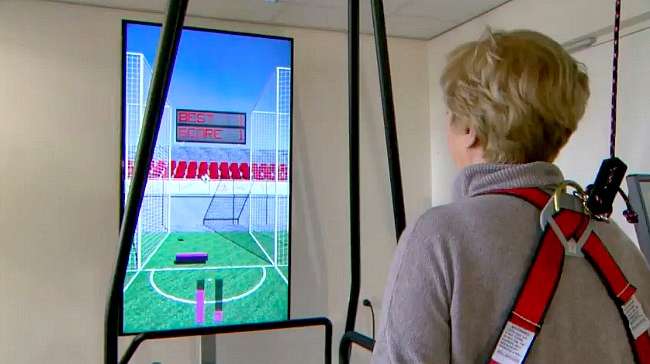 images: MOTEKFORCE LINK, DIH TECHNOLOGIES CORPORATION
The C-Mill rehabilitation treadmill uses augmented and virtual reality for gait training and assessment.
The C-Mill, a sophisticated treadmill developed to train and assess gait and balance, uses visual and acoustic cues to challenge patients to learn various gait adaptability strategies and improve their balance. The treadmill offers a fun, safe environment that enables patients to improve their gait and address any stability issues in order to be able to walk safely in everyday life. The C-Mill offers an optional balance suite and body weight support for patients in the very early stage of recovery, but can be used at any stage of rehabilitation.
The C-Mill trains a range of specific skills by projecting graphics on the walking surface. The graphics serve as visual cues that challenge patients to avoid obstacles, change their step width or length or make other adjustments to improve their gait pattern and reduce the risk of falls. Therapists can let the cues appear automatically based on the patient's gait or they can alter the cues to train the gait pattern. The C-Mill uses the special CueFors software to track various gait parameters and automatically generate reports for patient evaluation. The parameters include step frequency, symmetry, width and length.
The treadmill comes in three models: C-Mill, C-Mill VR and C-Mill VR+. The C-Mill model comes with C-Mill applications, a self-supported safety frame, and optional frontal and sagittal cameras, handrails for children and research suite. The VR and VR+ models have the same options and also include a VR suite and an optional balance suite. The C-Mill VR was developed to train automated movements and dual tasking, while the C-Mill VR+ is a comprehensive solution for early to late rehabilitation with balance and body weight support. The C-Mill VR+ has adjustable handrails and a wider walking area than the other two models.
The C-Mill applications, available with all three models, offer a diverse range of possibilities. The We-Move application, for instance, trains obstacle avoidance, anticipation strategy and reaction time, while Walking Area trains speeding up and slowing down by challenging patients to keep up with a walking area displayed in a different colour. Tandem application, which requires patients to walk on a narrow strip, trains gait stability and step width, while Slalom, designed to improve gait stability and cross pass, challenges them to walk on a curved line. Stepping Stones trains gait symmetry, step length and obstacle avoidance by challenging patients to walk on stepping stones.
The C-Mill VR suite, available with the C-Mill VR and VR+ models, is also designed to train obstacle avoidance, gait stability, gait speed, walking distance, step length and step symmetry, and it does this by immersing patients in the virtual worlds of the Italian Alps or a nature island that are displayed on a screen in front of them.
Watch the video below to hear more about the experience with the treadmill in clinical practice.