First CAREN Rehabilitation System Launched in Asia
BY: FG Team
13 November 2014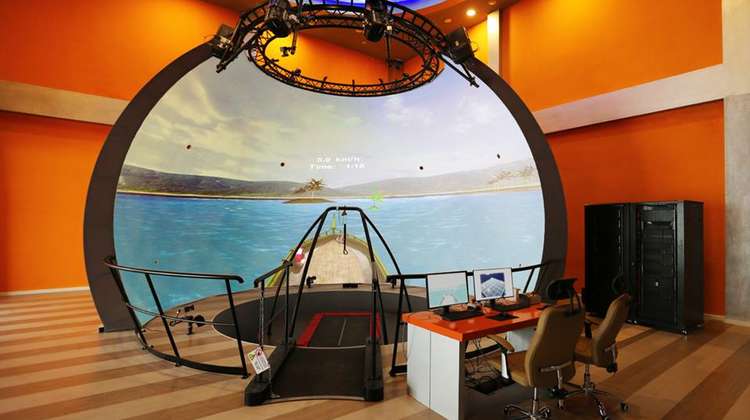 images: MOTEK MEDICAL FACEBOOK
Motekforce Link and DIH Medical officially launched the first CAREN system at a hospital in Chengdu, China in late October.
The first CAREN (Computer Assisted Rehabilitation Environment) system was launched at Bayi Hospital in Chengdu, China on October 31. CAREN was introduced to the Chinese market by Motekforce Link and DIH Medical. The installation also included a brand new building for Motek Medical's rehabilitation system. Guests at the opening ceremony, which included a full demonstration of the CAREN system, included Chinese and Dutch government officials, researchers, physical therapists, and other medical staff.
CAREN is an advanced hardware and software system that uses motion capture technology to track, evaluate and train functional human behaviour. It can be used to improve patients' posture, balance, and gait. The basic model consists of a motion base, a projection screen, D-flow software, and motion capture technology. The extended model uses a dual belt instrumented treadmill on the motion base and a range of gait applications. The high-end CAREN model comes with a 360-degree dome for a fully immersive virtual reality experience.
The CAREN system can be used with additional components to further enhance its range of applications. These include EMG (Electro-Myography), video capture, motion capture suits, data gloves, haptic devices, pressure measurement systems, heart rate monitors, and head mount displays. The first CAREN prototype was developed in 1998, supported by a research grant from the European Commission. The first production grade system was sold to the University of Groningen in the Netherlands in 2000. Today, the rehabilitation system is used at hospitals, clinics, universities, medical centres, rehabilitation facilities, and research centres across Europe, the United States, and Canada.
Motekforce Link is the result of a merger between Motek Medical and ForceLink, two companies specialising in the development of rehabilitation equipment. Motek Medical uses rehabilitation technologies to develop clinical products for the medical and research market, while ForceLink develops instrumented treadmills that use movement platforms and augmented reality. Both brands are still active on the international market. The new company, formed in July 2014, is based in Amsterdam, the Netherlands.