Games for Health Europe Conference 2014: Report
BY: FG Team
10 November 2014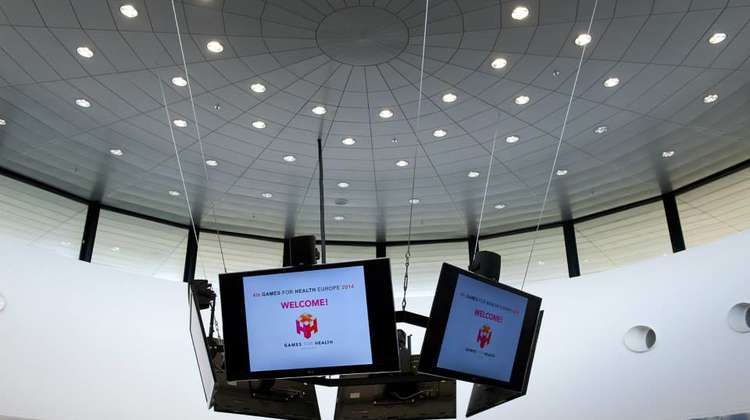 images: GAMES FOR HEALTH EUROPE, FACEBOOK - MIRELLA BOOT FOTOGRAFIE
The 2014 Games for Health Europe Conference was held in Utrecht, the Netherlands, on October 27 and 28.
The fourth annual Games for Health Europe Conference was held at the Province House in Utrecht in the Netherlands, on October 27 and 28. The conference welcomed applied gaming industry professionals, care providers, scientists, representatives of health insurance companies, government employees, and professionals from around the world involved in developing and applying innovative technologies in the healthcare and wellness sectors.
GFHEU 2014 hosted almost 60 international speakers who shared their ideas and experiences in their respective areas of expertise. The speakers covered a varied range of topics, from children's health and behavioural change to cognitive processes and therapy loyalty. Ben Sawyer, Games for Health (US) co-founder, opened the conference with an overview of the current state of the applied gaming industry, and Rutger Engles from the Dutch Trimbos Instutute started the plenary session with a keynote focusing on the use of health games in addressing mental health.
The Games for Health Europe Conference is held annually to provide a platform for academics, health industry workers, and game developers to discuss applied games, the games that motivate people to move more, help increase patients' self-management skills and teach them to deal with their conditions, and help healthcare workers train specialist skills. GFHEU Confrence is organised by the Games for Health Europe Foundation, a non-profit organisation and Europe's leading professional community for applied health games, dedicated to promoting and advancing game technologies that improve health and the delivery of healthcare.
The conference featured a series of sessions and presentations across 10 different tracks. The Children's Health track included presentations on robot-assisted locomotion therapy for children, development of a biofeedback cycling game for children with cerebral palsy, and video games for children's mental health. The Behavioural Change track had sessions that dealt with the downside of games in health, mobile health game design, and new approaches to prevention.
Track 3, Empowering Games, featured topics including apps designed to empower children and the challenges of developing games with sensitive topics. Track 4, Movement & Flow, hosted presentations on sensor and motion-based games and meaningful feedback that motivates teenagers to move. The Education and Training track covered educational software and games as a training tool, while the Business of Games track provided participants with an opportunity to hear from researchers at the Finnish Savonia University of Applied Sciences and Kupio Innovation, the Italian Resuscitation Council, and Erasmus University Medical Center Rotterdam.
Track 7, Adherence and Efficacy, dealt with motivation in health games and ways to achieve therapy adherence, while track 8, Silver Games, welcomed researchers from Kyushu University and Nagao Hospital in Japan, who shared the verification results of a stand-up exercise and balance game, and Emmanuel Tsekleves from Lancaster University in the UK, who held a presentation on active parks and urban games for sedentary and older people. Track 9, PHD on the Move, covered applied games in surgical education, while track 10, Game Design, provided visitors with insights into game development and serious game classification.
The technologies on display included the Oculus Rift headset and Paro, an interactive therapeutic robot developed by Japanese industrial automation leader AIST. The motion capture lab of the Department of Information and Computing Sciences at Utrecht University also showcased its work at the conference. The facility uses motion capture technology to acquire and analyse human motion data, recreate the motion in 3D space, and then to apply the resulting data in a number of different ways, from analysing muscular activity to playing animations on virtual characters.
As part of the side program, the annual Games [4Health] Jam took game developers to the mental health institute in Eindhoven, where they explored how games can inspire debates and contribute to therapy compliance.
The fifth edition of the Games for Health Europe Conference will be held on November 2 and 3, 2015.