Hirob VR Rehabilitation Robot Uses Virtual Environments to Enhance Neurological Rehabilitation
BY: FG Team
4 November 2016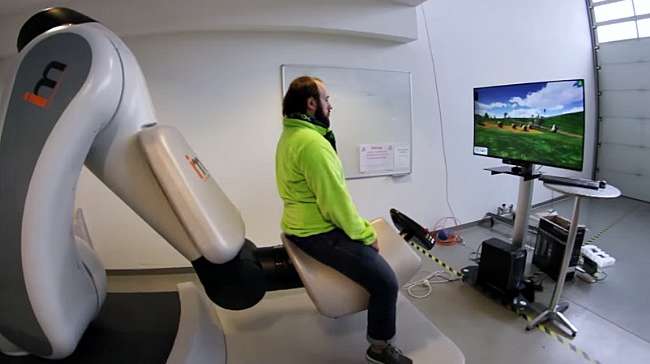 images: REDOX GAME LABS, INTELLIGENT MOTION
The hirob VR rehabilitation platform combines robotics with virtual environments to enhance movement therapy and improve balance and trunk control in patients with neurological conditions.
The hirob VR virtual rehabilitation platform combines a sophisticated rehabilitation robot with a virtual reality solution to offer neurological patients unique movement therapy to improve their trunk control and stability.
The virtual reality platform was developed by Redox Game Labs, an independent game development studio based in Salzburg, Austria. The platform uses an engaging, unlimited virtual terrain with adjustable levels of training difficulty to motivate and encourage patients to perform therapeutic movements. Patients' movements are tracked using Microsoft Kinect and VR movement is controlled by the relative position of the hirob robot. The platform uses the OPC standard interface for two-way communication between the robot and the VR software.
The robot itself is a Class IIa medical device that challenges patients to actively react to its movements, training their trunk stability and balance through three-dimensional movement. It has a seat shaped like a horse's back and simulates a path of motion similar to a horse's walking movement, supporting patients' ability to keep their upper body in a straight posture and improving their static and dynamic balance. The device gently stretches the muscles that are shortened by the normal sitting position, regulating muscle tone and enhancing the flexibility of the hip joints. In a clinical study conducted at Hochzirl Hospital in Zirl, Austria, 11 out of 12 patients recovering after a stroke or traumatic brain injury showed significant improvements in trunk stability, the ability to maintain the pelvis and upper body in a straight posture, as well as increased back muscle activity and an improved selective pelvic movement.
The rehabilitation robot was developed by Austrian training equipment supplier intelligent motion gmbh, a company specializing in integrating the latest technologies into highly automated training devices to make training and therapy more effective, compelling and fun. The company's rehabilitation robots are designed to support patients' recovery and the automation of therapies enables a considerably speedier and more efficient treatment of patients. The hirob robot is indicated for use with all pathologies causing trunk instability.
Redox Game Labs specializes in developing computer and console games for a diverse range of web, entertainment and healthcare applications. Founded in 2014 by a team of developers from the University of Applied Sciences Salzburg, the company has created a number of innovative apps, as well as gaming and web solutions.
Watch the video below to see how the hirob VR platform works.