Hocoma's Rehabilitation Equipment Brings New Hope to Croatian Polyclinic
BY: FG Team
23 March 2016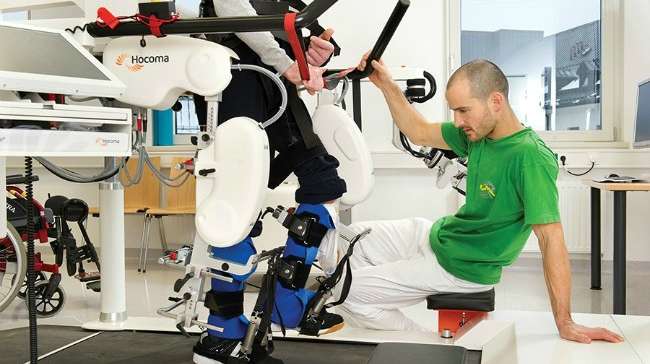 images: HOCOMA, SWITZERLAND ; POLIKLINIKA GLAVIĆ - TERAPIJA ROBOTIKOM U DUBROVNIKU-NOVO LICE REHABILITACIJE; FACEBOOK GROUP ; JOŠKO GLAVIĆ FACEBOOK
Hocoma has teamed up with a Croatian polyclinic to introduce neurorehabilitation with the LokomatPro to underprivileged patients in Dubrovnik.
Neurorehabilitation leader Hocoma has forged a new partnership with a Croatian polyclinic that will bring the company's flagship product, the LokomatPro, to Dubrovnik to help 10 underprivileged patients from Croatia, Montenegro, Bosnia and Herzegovina and Serbia learn to walk again.
Poliklinika Glavić is a private healthcare facility specializing in neurology, psychiatry, ophthalmology and internal medicine. Founded in 1998, it is the first facility of its kind in the Dubrovnik-Neretva County and one of the first such clinics in Croatia. By introducing Hocoma's rehabilitation exoskeletons, the clinic aims to offer the best possible neurorehabilitation solutions to its patients.
The LokomatPro campaign is not clinic's first collaboration with Hocoma. In a recent neurorehabilitation therapy campaign, several of the clinic's patients who had been labelled as "untreatable" were given a free opportunity to train on the ArmeoSpring, Hocoma's rehabilitation exoskeleton designed to help recovering patients regain active movement of the arm and hand. The participants showed significant improvements in the use of their arms and hands, and were able to perform tasks that they hadn't previously been able to. After seeing the results, the clinic obtained the Armeo to be able to continue to provide superior treatment to their patients.
The new rehabilitation campaign comes on the heels of the success of the previous one and will assist patients in their recovery over a 10 to 12 week period. The LokomatPro, a groundbreaking rehabilitation exoskeleton that offers gait therapy on a treadmill with game-like Augmented Performance Feedback, is easy to adapt to individual patients. It also helps therapists achieve specific therapy goals and offer longer and more intensive training sessions. Developed to optimize gait training efficiency, the LokomatPro motivates patients to improve their movement quality with game-like exercises and points for active movements.
The goal of the campaign led by Poliklinika Glavić is to offer quality therapy to patients who need it most and to raise awareness of the need for this kind of rehabilitation. The clinic is currently in the process of reviewing hundreds of applications to ensure that they reach the patients who are the most vulnerable and most in need of support and free neurorehabilitation.
Watch the video below to see the results of the ArmeoPro rehabilitation campaign.