Humanware's Rehabilitation Technologies Facilitate Recovery of Neurological and Orthopedic Patients
BY: FG Team
19 January 2018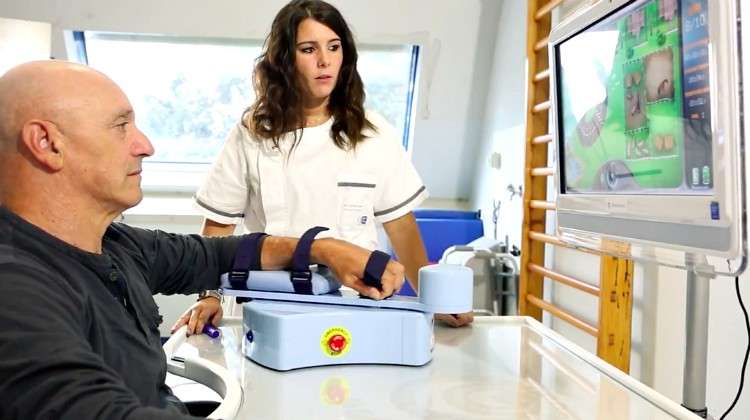 images: HUMANWARE
Humanware's innovative rehabilitation solutions MOTORE and ULTRA facilitate the work of therapists and make the recovery process easier and more engaging for neurological and orthopedic patients.
MOTORE and ULTRA are advanced rehabilitation solutions that assist in the recovery of patients suffering from a wide range of neurological and orthopedic disorders.
MOTORE is a mobile rehabilitation robot developed for the neuro-orthopedic rehabilitation of the upper limbs. The small, portable device turns rehabilitation into an interactive experience and makes it easier and more fun for patients. The robot uses motors that allow it to actively participate in all the movements the patient needs to perform in the course of treatment. It can assist or impede the movements, depending on individual patients' needs. The robot requires patients to be focused on the task at hand at all times and will not move unless they exert some degree of force.
The haptic rehabilitation robot is designed to assist both patients and occupational therapists. It can sense the force exerted by the patient and respond to it to help the patient complete a therapeutic task. The software that comes with it uses games to challenge and motivate patients to perform various exercises. It also provides clinicians with accurate data on patients' performance, allowing them to objectively evaluate patients' progress over time and plan future treatments. The robot is suitable for use with stroke and trauma patients, in cognitive recovery or in telemedicine.
ULTRA is an upper limb tracker developed to track and measure patients' movements during rehabilitation while they interact with a 3D virtual environment. The seven-degrees-of-freedom tracker comes with several different handles to ensure that each patient uses the most comfortable grip in any given configuration. The companion software helps make the tracker an effective tool for proprioceptive neurological rehabilitation.
MOTORE and ULTRA were developed by the Italian company Humanware, a spin-off from the Sant'Anna School of Advanced Studies, a public university in Pisa, Italy, operating in the field of applied sciences. With a team of researchers and engineers with a background in robotics, mechatronics and virtual reality, Humanware is dedicated to developing solutions and technologies that assist clinicians and facilitate patients' recovery during rehabilitation.
Watch the video below to learn more about MOTORE.