Medical Fitness Solutions Offers Versatile Range of Balance Training and Assessment Solutions
BY: FG Team
30 December 2016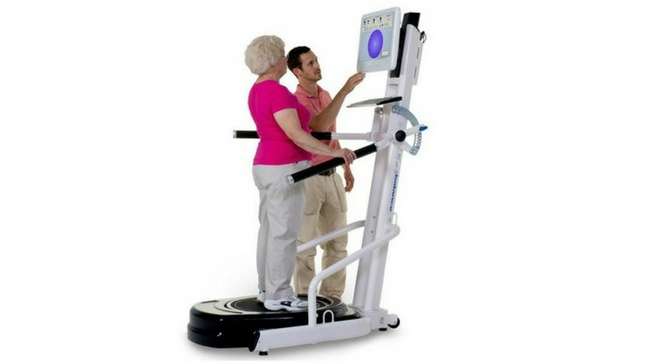 images: MEDICAL FITNESS SOLUTIONS
The Korebalance family of solutions offers a diverse range of advanced technologies for balance training and assessment in orthopedic and neurosensory rehabilitation.
Medical Fitness Solutions offers a versatile range of solutions that help patients, athletes and recreational users improve and assess their balance. The Korebalance family of products in particular offers engaging programs to improve outcomes in orthopedic and neurosensory rehabilitation.
The Korebalance is an advanced rehabilitation system designed for professional use that uses cutting edge interactive technology to deliver neurosensory training and assessment. The platform uses a high-speed accelerometer for 360 degrees horizontal and 20 degrees vertical movement tracking. With an innovative design, the balance training system offers a stable ingress and egress surface, safety handrails, attachment points for exercise bands, and a selection of large surface acoustic wave digital LCD touchscreens with integrated quality stereo speakers.
Using patent pending variable stability technology, the Korebalance offers clinicians accurate and objective tools to assess patients' balance, with assessments that include static and dynamic balance tests and computerized variations of the standardized tests known as the Modified Clinical Test of Sensory Interaction on Balance (mCTSIB), the Romberg Test and Limits of Stability (LOS) tests.
The Korebalance also offers training programs developed to improve balance, posture, coordination and stability. The programs use interactive 3D games to engage patients in various exercises and they enable clinicians to customize treatment plans for patients with all levels of ability.
The Korebalance allows clinicians to securely store millions of patient files and is used by clinics, medical centres, fitness and recreation clubs, assisted living facilities, universities, physical therapists' offices and professional sports teams worldwide.
The Korebalance is available in several editions: the Korebalance Premiere models 17, 19 and 22, the Korebalance Kompact, the Korebalance Basic and the Korebalance Mobile. The Premiere models offer training and testing sessions for balance, cognition, or both. Clinicians can store patients' test results and compare them to assess mental decline as well as improvement and regression in patients recovering after a mild traumatic brain injury (MTBI), or concussion. The applications available with the platform include orthopedic rehabilitation, fall risk screening and rehabilitation, MTBI treatment and assessment, and treatment of peripheral neuropathies. These can be used in physical and occupational therapy, sports training, neurology, long term care and industrial medicine.
The Korebalance Premiere 22 model comes with a medical grade touchscreen/computer and fully adjustable handrails, while the Korebalance Kompact is available with an optional walker for added stability. Both these models come with a cognition baseline and training module.
The Kompact model includes a platform, touchscreen monitor/computer with an adjustable stand, hand pump, variable air pressure bladder system, tilt sensor, analogue pressure gauge and colour printer. It comes with the Korebalance Concussion Management Program, which combines baseline assessment, post-injury assessment and a strengthening regimen to track and assist with users' recovery. Compared to the Premiere models, which weigh 143 kg (315 lbs), the Kompact is very easy to transport, weighing only 10 kg.
The Korebalance Mobile, which weighs the same, has the same elements, but comes with a laptop computer instead of the touchscreen display/computer, while the Korebalance Basic, which comes with a platform, hand pump, variable air pressure bladder system and analogue pressure gauge, requires no power supply.
In addition to balance training systems developed for rehabilitation settings, Medical Fitness Solutions offers solutions for everyday use. The DeskSurfer, an easily adjustable platform designed to maximize the benefits of working at a standing desk, helps users improve their balance, circulation and cognitive function, as well as increase their metabolism and possibly also productivity and work quality. Offering adjustable stability and 360 degrees of rotation with up to 20 degrees of deflection, this patent pending handcrafted balance platform is suitable both for patients requiring a stable platform and for athletic users.
With more than 30 years of experience in serving the rehabilitation community, Medical Fitness Solutions develops products and programs to improve patient outcomes in rehabilitation and residents' quality of life in long term care facilities. The company's Total Solutions program offers a range of clinically proven solutions, including the Korebalance, CyberCycle, bioDensity, Boxmaster and Power Plate, to mitigate the common maladies of aging and help seniors age gracefully. Watch the video below to learn more about the Korebalance.