MindMaze Ranked in Top 100 Best Swiss Startups
BY: FG Team
23 October 2014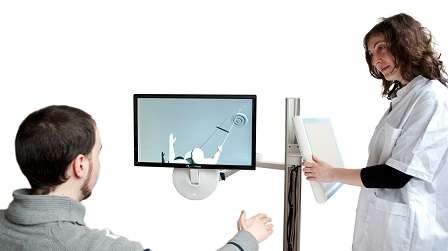 images: MINDMAZE
MindMaze, the innovative developer of virtual reality based rehabilitation solutions, has been included on the list of the Top 100 Best Swiss Startups 2014.
The Swiss research and development company MindMaze has once again been included among the Top 100 Best Swiss Startups. The Best Swiss Startups list is an annual award that provides a representative overview of Switzerland's most promising new companies. Each year, a jury of startup experts select the best newcomers from more than 100,000 young companies. The award was launched by the IFJ (Institut für Jungunternehmen) in partnership with the Journalistenbüro Niedermann and the Handelszeitung.
Based in Lausanne, MindMaze specialises in developing tools to assist in the rehabilitation of patients suffering from brain and spinal cord injuries. The company designs unique hardware and software for customised solutions across a broad range of applications. The tools are designed to help with repetitive training, tracking, measurement, and analysis of patients' performance and progress, all of which are vital to motor recovery. The company's multidisciplinary team of researchers includes scientists specialising in cognitive neuroscience, virtual reality, brain-computer interfaces, computer vision, and robotics among other disciplines.
Founded in 2012 as a spinoff from the Swiss Federal Institute (EPFL), MindMaze develops solutions that incorporate 3D virtual environments, immersive virtual reality, video games, and brain imaging to assist with 3D imaging, game training, and neurological rehabilitation. The company's neurotechnology solutions enable tailored interfaces that match users' abilities and address a variety of challenges typically encountered in rehabilitation. Products like MindPlayPRO, XPERT, and LITE are designed to maximise independent patient training and come with features that help both in hospital-based recovery programs and in home rehabilitation.
MindPlayPRO, the company's award-winning interactive platform, uses virtual reality training to help in recovery after stroke and brain injury. The portable VR device provides therapists and medical professionals with accurate diagnostic tools to make rehabilitation programs more efficient and track patients' progress over time. The platform is designed for use in upper limb motor rehabilitation in clinics and hospitals.