MIRA Rehabilitation Platform Lets Patients Play Their Way to Recovery
BY: FG Team
8 December 2014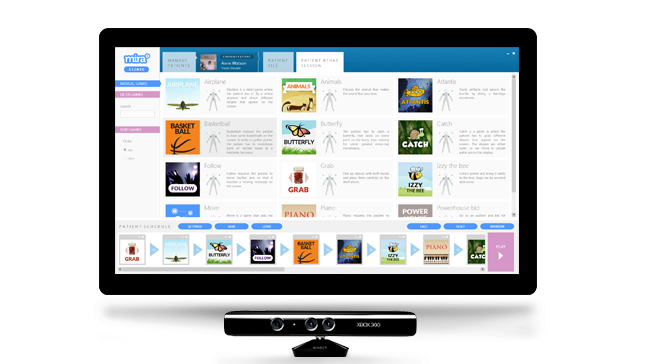 images: MIRA REHABILITATION, MIRA FACEBOOK
MIRA is a medical software platform designed to make the recovery process easier and more fun for patients.
MIRA is an innovative medical product that makes physical therapy more fun for patients recovering from injury or surgery. It is a software platform that transforms therapeutic exercises into engaging, clinically built interactive games. MIRA uses external sensors to track patients as they perform the exercises and helps clinicians track progress and compliance. The platform is designed to help therapists better engage with patients in recovery. The system currently uses Kinect depth sensing technology to determine if patients are performing exercises correctly and if their performance improves over time.
The platform can track patients to ensure that they are following through with the prescribed exercises and to determine how effectively they are performing them. It delivers therapy programs through a series of games, making the recovery process easier and increasing adherence. As a result, patients take less time to recover.
Physical therapists can use the patient management dashboard to define and customise exercises for patients and to track their progress in real time. The games available with the MIRA platform were developed to address different pathologies and can be adapted to better serve patients' needs. They make it easier for patients to stick with long and repetitive sets of exercises during rehabilitation. Patients using the platform are continuously challenged to progress to different levels within the games while performing therapeutic exercises. They can also use the application at home, in between therapy sessions at the clinic.
MIRA was developed by MIRA Rehab, a Romanian startup with headquarters in London, the UK. The company specialises in rehabilitation products, software development, and telemedicine, and has already received a lot of recognition for its work. It was named one of the top 6 projects worldwide at the 2011 Microsoft Imagine Cup. In 2013, it won the Healthbox Innovation Award, and the Kairos Society included it among the top 50 student-run businesses in the world. In 2014, TechEU named MIRA one of the 35 startups to watch in Europe.
To learn more about the rehabilitation platform, watch the video.