OrbIT Gaming Platform Introduces Interactive Games to People with Limited Hand Function
BY: FG Team
22 February 2017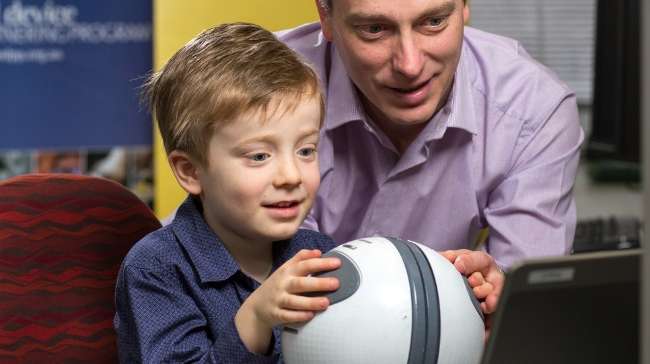 images: FLINDERS UNIVERSITY
OrbIT is a home-based accessible gaming platform developed to allow people with disabilities, including cerebral palsy, to play therapeutic computer games.
OrbIT is a gaming system that uses an orb-shaped game controller to enable people with disabilities to play computer games that would usually be too challenging for them because of the fine motor skills required to use a regular game controller. The innovative gaming system was developed to provide a new, more fun form of therapy and improve the lives of people with limited hand function, including those with cerebral palsy and traumatic brain injury.
Cerebral palsy is a life-long condition that cannot be cured and requires ongoing therapy. It affects a person's movement, posture and occasionally cognition and the senses and, as a result, many children with CP experience difficulty in detecting and sensing objects with their hands. Therapy typically entails exercises to improve range of motion, limb coordination and control. Unlike traditional therapy, the games available with the OrbIT system are designed to improve the player's hand sensation and function. They challenge the player to, for instance, fly a plane through a countryside while avoiding windmills, barns and other aircraft or to control a squirrel and guide it up a tree to collect coins and acorns while avoiding branches.
The award-winning system uses only a laptop that runs the therapeutic games and a spherical game controller that does not require fine motor control. The controller vibrates in response to various actions and uses sensors to track the position of the player's hand on the device. The system engages both hands throughout the session and pauses the game whenever the player removes them from the device.
In addition to offering an enjoyable gaming experience to people with disabilities, OrbIT is effective at improving social interaction among siblings, as it levels the playing field between children with and without hand impairment. Early research has also identified a positive change in hand motor function, showing that the children's non-dominant hand performed better after using the OrbIT system.
OrbIT was developed by a team of researchers and designers led by David Hobbs, Rehabilitation Engineer and lecturer at Flinders University in Adelaide, South Australia. It is the result of a collaboration between Flinders University, the University of South Australia and the Women's and Children's Hospital in Adelaide.
Flinders University researcher David Hobbs says the system, called "OrbIT", has been shown to improve hand function for people living with disabilities such as cerebral palsy. Positive functional results were also recorded from a recent trial with people recovering from a stroke, and further trials in other areas, such as people with Parkinson's disease, are planned.
"The system was designed to be engaging and to promote hand use, while allowing children with a hand impairment to participate in a fun activity that they wouldn't normally be able to do – playing computer games. This provided the motivation to use both their hands, meaning the games were a form of entertainment as well as hand therapy."

"If we can improve hand function, this can lead to greater independence for the child, meaning they might be able to then engage in other activities independently, such as dressing themselves or using a keyboard.  Families were delighted with OrbIT as it brought together siblings and led to greater socialising and interaction. It provided a common level playing field, regardless of ability." 

"Given how accessible the controller is, it's possible that it could even be a pathway for skill development that could enable someone to control their TV or other devices around the home. There are many possibilities ahead." 
Watch the video below to hear more about the system and its benefits from its creator and users.