Playwork Seamlessly Integrates Computer Games into Therapy
BY: FG Team
2 December 2016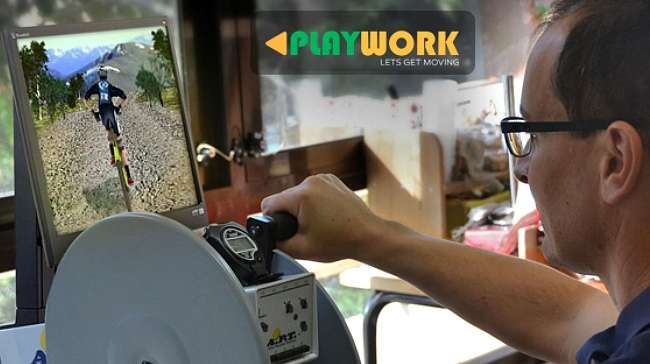 images: PLAYWORK
Playwork is a rehabilitation platform that integrates gaming into workout equipment to make training and therapy more engaging and effective for patients recovering from a wide range of disorders.
Playwork is a gamified rehabilitation platform that integrates gaming into existing workout equipment to make training more compelling and fun. Developed by Israeli company Gemon, the smart gaming system turns the rehabilitation process into a unique experience combining innovative game design with therapeutic knowledge to offer patients engaging, goal-driven rehabilitation.
Training sessions with Playwork supply therapists with extensive data, allowing them to use information from a continuously growing database to improve their efficiency, while simultaneously motivating patients to challenge themselves by providing them with real-time scores and feedback on their performance. The gaming technology turns patients into players, making it easier for them to deal with any pain, discomfort, lack of motivation, and monotony of repetitive exercises. The games can, for instance, help people with disabilities strengthen their upper back by challenging them to maneuver a car through a busy street by raising a pole from one notch to the next while sensors in each notch capture their movements and display the car's progress on an iPad.
As patients perform the therapeutic exercises, their movement is translated into action inside the game, which makes therapy more fun and speeds up the recovery process. At the same time, the platform enables therapists and caregivers to monitor patients' performance digitally and analyze lots of relevant data.
Based in Nes Ziona, Israel, Gemon specializes in seamlessly integrating interactive computer games into rehabilitation, sports and exercise equipment to make training more challenging, fun and engaging. With a team of experts in IT solutions, mobile and video games, orthopedic rehabilitation and physical therapy, the award-winning startup develops cost-effective solutions that meet the needs of both caregivers and patients, making rehabilitation accessible to everyone. The company is also working on a sensor that can be attached to any exercise machine to turn the workout into a game. The company's goal is to help people with disabilities achieve and maintain their physical and mental health in a fun, playful way.