Barrett Introduces Proficio Robotic Arm with VirtualRehab Games
BY: FG Team
29 October 2014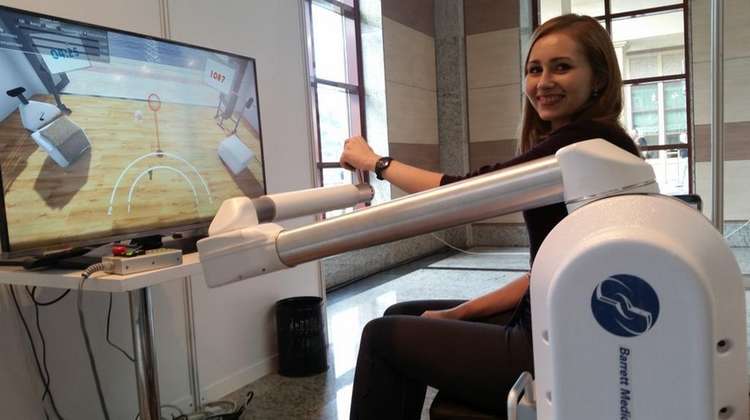 images: BARRET MEDICAL; VIRTUALREHAB; VIRTUALWARE, TWITTER
Robotics leader Barrett Technology has introduced Proficio, a new robotic arm designed for use in rehabilitation and therapy. The device runs on the VirtualRehab platform.
Barrett Technology has presented the research edition of its new robotic arm, Proficio, at the 2014 American Congress of Rehabilitation Medicine Conference (ACRM) in Toronto, Canada earlier this month. Proficio uses the largest ever 3D haptics-force-field to explore brain neuroplasticity and runs on the VirtualRehab platform, the video game platform designed by Virtualware for use in physical therapy. The robotics company hopes that the device will soon start assisting in the rehabilitation of patients recovering from spinal cord injury, traumatic brain injury, and stroke.
Proficio encourages patients to freely explore 3D reaching tasks, while the VirtualRehab platform leverages the 3D workspace with a variety of interactive games that motivate patients to stick with the exercises. The games available with VirtualRehab use the Microsoft Kinect to provide a rich, engaging experience for patients. The robotic arm was developed for neuroscience research and uses a varied range of haptic tools which, like VirtualRehab, offer a rich interactive experience for users. Both Proficio and VirtualRehab can be used as standalone solutions, but combining the two encourages intensive use by allowing patients to see and feel the games. For extra motivation, patients can also see their scores displayed in front of them and track their progress.
Barrett Technology is a leading manufacturer of high-performance robotic arms. The US-based company was formed as a spin-off from the Artificial Intelligence Laboratory at the Massachusetts Institute of Technology in 1990 and has since pioneered technology that enables new levels of flexibility and versatility in articulated arms and hands.
Virtualware specialises in the development of interactive games for use in rehabilitation programs for patients suffering from neurovascular, neuromuscular, and neurodegenerative disorders.
"VirtualRehab was originally developed with the clear idea of incorporating the most cutting-edge technology into our physical rehabilitation videogame platform. When Barrett approached us to work with them to combine their state-of-the-art Proficio with our rehabilitation videogames, we jumped at the opportunity," said David Fried, Director of International Business Development at Virtualware. "We have no doubt that the Proficio-VirtualRehab solution will prove to be a game changer within the rehabilitation field."
The research edition of Proficio presented at the ACRM Conference is not yet designed to work with patients. Interactive rehabilitation programs with the robotic arm are coming in 2015.