Recovr Improves Outcomes in Upper Extremity Rehabilitation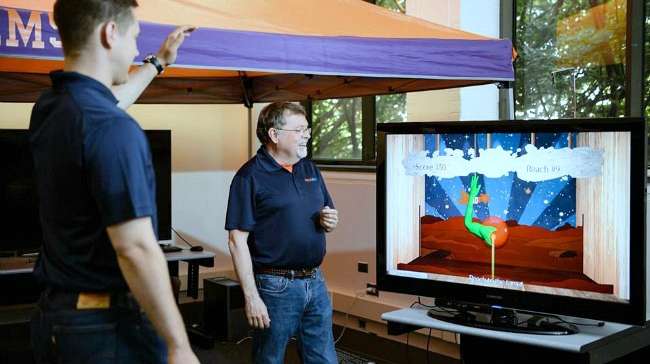 images: RECOVR
The Recovr Rehabilitation System offers therapist-designed exercises delivered through fun, interactive games to engage patients with a wide range of impairments and improve therapy outcomes.
The Recovr Rehabilitation System is an innovative, FDA-cleared physical rehabilitation platform that uses interactive games and Microsoft Kinect technology to engage patients in rehabilitation exercises prescribed by therapists. Designed by a team of therapists, Recovr offers tools for upper extremity rehabilitation that enhance the therapy process by motivating patients to spend more time repeating therapeutic exercises to help them recover faster. At the same time, the system provides therapists with automated reports that track patients' progress and outcomes, and help with reporting to insurance companies. If a patient is using the platform at home, the therapist can access the reports through Recovr's online portal.
Designed primarily for use in short-term rehabilitation facilities, Recovr turns therapy into a gaming experience, taking patients' minds off the exercises and motivating them to get to the next level of the game faster. Each game has multiple themes that are unlocked as patients make progress during the session, encouraging them to complete the assigned tasks at home. The games are based on clinically validated exercises that stimulate recovery through neuroplasticity.
Recovr was developed by Recovr, Inc, a company based in Clemson, South Carolina specializing in designing and building software-based solutions for physical rehabilitation and patient assessment that increase patient compliance and improve outcomes. Founded in 2013, the company designs complete hardware and software systems, including visually engaging games that help with a wide range of impairments, to increase exercise adherence at home. This is particularly important in the rehabilitation of upper extremities, as research indicates that higher repetitions of exercises lead to better recovery. For this reason, game-based platforms that engage patients in therapeutic exercises at home can enhance therapy outcomes, as well as make patients' recovery easier and more fun.
The company's first product, Duck, Duck, Punch (DDP), automatically tracks and collects gameplay performance data during therapy session. Pilot studies using DDP with stroke patients at the Medical University of South Carolina showed that participants used the platform on a daily basis in their home and that, compared to regular therapy, they performed 3 to 5 times more reaching movements and had significant improvements in motor control, elbow extension and shoulder rotation.