Rehabilitation Gaming System Uses Game Training to Treat Stroke Patients
BY: FG Team
7 December 2014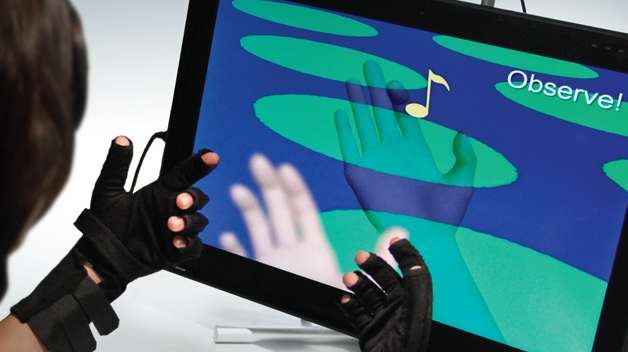 images: RGS-PROJECT.EU
The Rehabilitation Gaming System (RGS) is an innovative rehabilitation platform that can efficiently address motor deficits of the upper extremities in stroke patients.
The Rehabilitation Gaming System (RGS) is an effective rehabilitation tool that uses virtual reality games to address deficits resulting from brain lesions in patients who have suffered a stroke. The platform uses task-oriented game training, adjusts complexity levels to patients' abilities, and uses motion sensing technology to track body movements and obtain data on the patient's performance. RGS is designed as a portable home-based rehabilitation platform that offers personalised functional and cognitive rehabilitation. The system only requires a PC, motion sensor, and tripod. It is currently used in a number of hospitals, and the home version is still being tested and will be available down the line.
The Rehabilitation Gaming System combines deficit oriented training with a variety of virtual reality-based video games tailored to individual patients. Patients can use data gloves to track finger movements and 3D glasses for a more immersive virtual experience. As patients perform different tasks, they can observe correlated actions performed by virtual limbs on the screen, displayed in a first-person perspective. The training programs are optimised through analysis of the patient's performance and they automatically adapt to the user. The data from each training session is sent to clinicians for analysis and can be used to optimise and adjust individual rehabilitation programs remotely.
RGS was developed by the SPECS group, a multidisciplinary team dedicated to studying psychological, behavioural and neuronal principles on which cognition, perception and emotion are based. SPECS (Synthetic, Perceptive, Emotive and Cognitive Systems) was founded by psychologist and research professor Paul Verschure in 2005 and is part of the Department of Information and Communication Technologies at Pompeu Fabra University (UPF) in Barcelona, Spain. In 2012, the SPECS group became part of UPF's Centre for Neuro-Robotics and Autonomous Systems, N-RAS, also coordinated by Verschure.
Watch the video to learn more about RGS and see the system at work.