Toyota Rehabilitation Robots Assist with Balance Training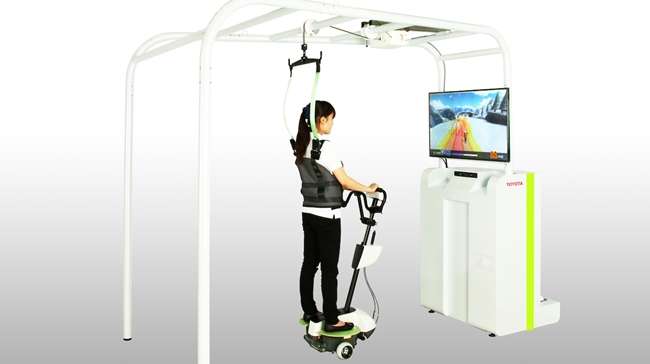 images: SLASHGEAR.COM
Toyota's Walk Training Assist and Balance Training Assist rehabilitation robots will be introduced to medical centres in Japan this autumn.
Toyota Motor Corporation will start introducing the recently developed clinical research versions of its rehabilitation robots to 20 medical facilities in Japan this autumn. The current versions of the Walk Training Assist and Balance Training Assist robots are improved offerings of the robots the company announced in 2011 as part of the Toyota Partner Robot series. Toyota started developing the robots in 2007 in collaboration with Fujita Health University Hospital in Toyoake, and has tested them in medical centres to improve the training functions based on motor-learning theory. The company aims to commercialise the robots in the near future.
Toyota's rehabilitation robots are designed to assist with the rehabilitation of patients who have difficulty walking and maintaining balance due to illness or after suffering an injury. The robots can be attached to the patients' legs to help them walk or stand and recover their sense of balance.
The Walk Training Assist robot helps patients regain mobility by helping them stand and walk. The model can be attached to a paralysed leg to help the patient swing the leg forward, straighten the knee, and to support the patient's weight. The level of assistance can be adjusted to suit specific rehabilitation needs.
The Balance Training Assist robot helps patients regain their balance using a video game display that links their body movements to actions of a character on the screen. The games available with the two-wheeled robot include tennis, rodeo, and skiing. They are designed to help the patient shift his centre of gravity while maintaining his balance. The difficulty level can be adjusted to the patient's specific needs.
Toyota will showcase the two models at the 51st Annual Meeting of the Japanese Association of Rehabilitation Medicine, which takes place from June 5 to 7 at the Nagoya Congress Center in Nagoya, Japan.