Trazer Offers Advanced Tools for Orthopedic Rehabilitation
BY: FG Team
7 December 2016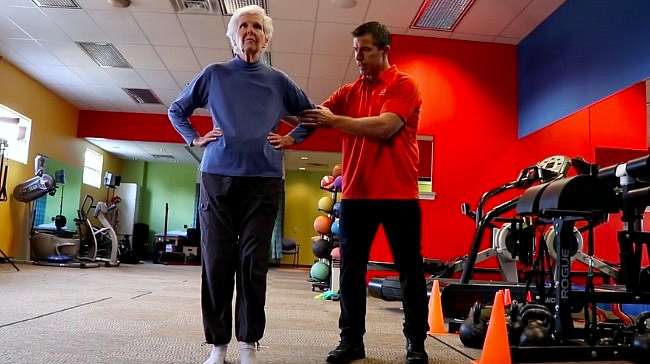 images: TRAQ GLOBAL
The Trazer simulator offers clinicians and other healthcare professionals invaluable tools for orthopedic care, sports injury rehabilitation, senior health and fall prevention.
The Trazer simulator uses patented technology and interactive games for a variety of specialized testing and training programs for orthopedic rehabilitation, sports injury prevention, concussion management and senior fall prevention. The simulator tracks and measures athletes and patients' performance and health and sends their performance data to a cloud site where it can be accessed by healthcare professionals and coaches in real time. Trazer is available in three different applications: orthopedics, senior health and fall prevention, and concussion management.
The orthopedics application enables healthcare providers to measure and chart patients' progress using objective data and analytics in cases where orthopedic issues cause functional movement imbalances. The simulator itself challenges patients' mind, body and vision and offers six levels of testing and rehabilitation with an extremely low perceived exertion rate, which motivates patients to put in a greater than normal effort and encourages compliance.
Trazer offers programs for ankle, knee, hip, balance and vestibular rehabilitation that enable clinicians to control the distance, direction and rate of the patient's movements in response to both planned and unplanned movement cues. The programs are designed to address needs in different fields, including sports medicine, neurology, cardiac, stroke and orthopedics.
Trazer accurately tracks the patient's movement in multiple directions and measures speed, reaction time, acceleration, deceleration and heart rate. It also documents patients' performance, compliance and rehabilitation outcomes in cases where the patient's functional capacities are affected by orthopedic injury, stroke, concussion or arthritis, as well as in those that require movement to be restored for the patient to regain full health, such as heart disease, obesity or diabetes. The simulator offers assessment tools that compare patients' movement data over time to show progress or degradation.
Watch the video below to hear more about the benefits of Trazer technology in rehabilitation from Dr. Sean Lager, orthopedic surgeon, sports injury specialist and founder of Gotham City Orthopedics, a group practice specializing in sports medicine and physical therapy.