Tyrostation Offers Versatile Range of Therapy Options
BY: FG Team
24 December 2014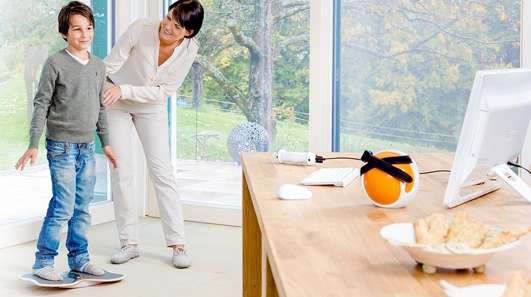 images: TYROMOTION
Tyrostation is a rehabilitation system that combines two advanced therapy tools developed by the Austrian company Tyromotion: the Pablo System and the Tymo Therapy Plate.
Tyrostation is an advanced, adjustable rehabilitation solution that combines the Pablo System and the Tymo Therapy Plate, two sophisticated therapy tools developed by Tyromotion. The Pablo System helps treat neurological and orthopedic motor deficits and can be used both at hospitals and clinics and at home. The system offers motivating therapy modules for hand and arm rehabilitation. It is suitable both for children and adults.
Pablo uses a sensor handle that can measure range of movement and forces for different kinds of grips. The Pablo Multiball helps improve motion of the forearm and wrist, while the Multiboard trains the joints of the affected limbs. The software available with the Pablo System offers both a range of interactive therapy games for patients and reporting features for therapists.
The Tymo Therapy Plate is a versatile solution that offers rehabilitation for the whole body. It can help patients improve postural control and balance, as well as employment of force of the upper limbs. The system has a wide range of applications and provides therapists with an endless range of options. Like Pablo, Tymo can be used both in clinical settings and at home and is suitable for all age groups.
The Tyrostation stationary unit is a practical solution for therapy as it creates space in the room and places all the units – Pablo pads and belts and the lateral trays for the Tymo 2D and 3D rolling elements – within the patient's reach. The unit's height can be adjusted to individual patients and is suitable for patients in wheelchairs.
The Tyrostation was developed by Tyromotion, an Austrian company that specialises in manufacturing and distributing robot and computer-assisted units for the rehabilitation sector. Based in Graz, the company uses powerful mechatronic systems for rehabilitation to develop innovative solutions and technologies that help physical therapists and other healthcare providers successfully guide patients through various rehabilitation programs. In addition to speeding up recovery, Tyromotion's solutions deliver exercises in a more motivating way than traditional therapy. The company's therapy units are used in clinics and rehabilitation centres around the world.