Valedo Nominated for 2015 Edison Award
BY: FG Team
1 December 2014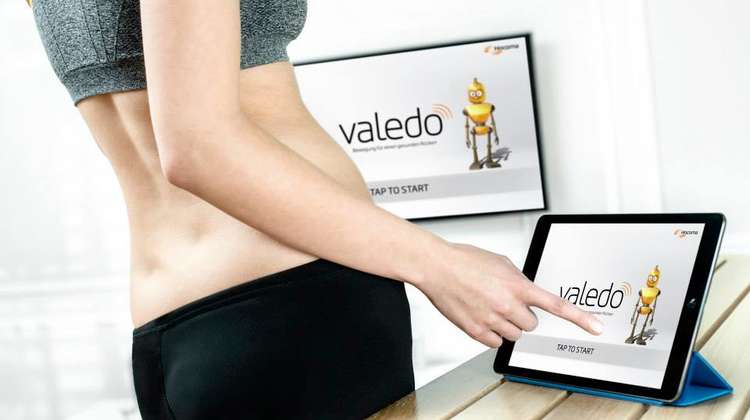 images: HOCOMA SWITZERLAND, VALEDO FACEBOOK
Valedo, Hocoma's back pain management solution, is one of the innovative products nominated for a 2015 Edison Award.
Valedo, Hocoma's advanced therapy solution for back pain reduction and long-term back health, has been nominated for the prestigious Edison Award. The Edison Awards are presented to products offering the most groundbreaking concept, impact, value, and delivery every year. They honour outstanding new products and service development, human-centred design, innovation, and marketing.
Valedo uses Bluetooth technology and an advanced sensor with a 3D gyroscope, a 3D accelerometer and a 3D magnetometer to capture users' movements as they perform any of the 17 unique movements incorporated into 45 different exercises. All the exercises available with the Valedo are based on certified back treatment programs. They are designed to target movement awareness, stabilization, mobilization, stretching, and balance, and to improve the user's spinal stability and muscle control. Hocoma's self-guided therapy solution allows users to perform the exercises using their iPhone or iPad. It was developed by movement scientists, doctors, therapists, and engineers.
Valedo was designed for people looking to prevent non-specific lower back pain, strengthen their muscles to increase stability, and relieve pain in the long term. It is also well suited to those who simply want to improve their health or enhance their existing therapy program. Valedo can also be used by physical therapists looking to increase patient motivation and compliance.
Hocoma's wearable device was also recently named a 2015 CES Innovation Awards Honoree in the wearable technologies category and will be showcased at the 2015 International CES, which runs from January 6 to 9 in Las Vegas, Nevada. Additionally, Cicor, Hocoma's outsourcing partner for Valedo, won the DeviceMed Award in the Outsourcing Partner category at COMPAMED 2014, held earlier this month in Düsseldorf, Germany.
The winners of the 2015 Edison Awards will be presented at the Edison Awards Ceremony & Gala in April 2015. The two-day program will also include a "Meet the Innovators Forum" and an "Innovators' Showcase." All the nominees support the cause of innovation through Edison Universe, an organisation dedicated to supporting the possibilities and opportunities for innovators and inventors.
The outstanding fitness and health products that were honoured at last year's Edison Awards include Impulse, the smart triaxial accelerometer by Dynamic Athletics Research Institute, the 94Fifty Smart Sensor Basketball by InfoMotion Sports Technologies, Rolomotion by Rolocule Games, and the Fitbit Force Wireless Activity & Sleep Wristband by Fitbit.