Buff-up Workout Board Delivers Personalized Weight and Balance Training
BY: FG Team
6 February 2018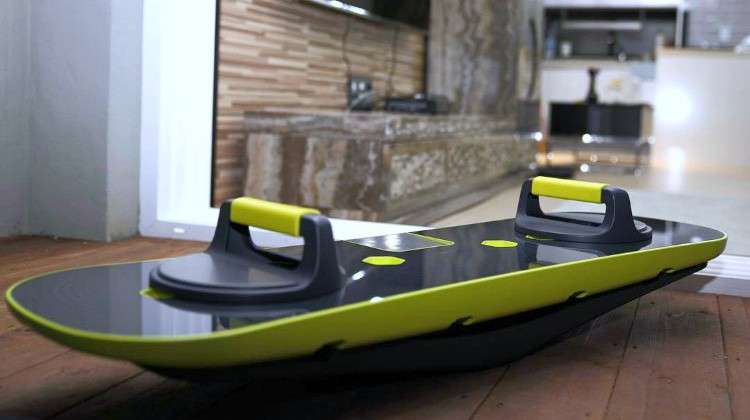 images: 202BPM
The Buff-up workout board uses a customized personal app trainer to deliver weight and balance training routines and interactive games that help improve users' strength and stability.
The Buff-up workout board is an innovative fitness board designed to help users improve their balance and strength, and build muscle in the comfort of their home. The board combines balance and weight training using a customized personal app trainer that allows users to track their performance and customize their workout routines through their smartphone. The board can be used to complete intense, effective full-body workouts that deliver results in only 15 minutes a day.
The companion app also offers Buff-up games to make the workouts more exciting and to challenge users to compete against themselves and keep improving their results and fitness level. The app allows users to test their levels of strength and balance and then recommends different exercises and training routines based on the users' performance. With the app, users can perform multiple workouts, set fitness goals and track their progress anywhere at any time. The app also offers regular updates to provide users with new games and exercises to keep them engaged and motivated.
The Buff-up board is durable and provides a versatile range of workout options that combine weight and balance motions into one. The Balance Board works the muscles that contribute to better stability and balance, but are mostly neglected by traditional exercises. To increase workout intensity, the board can be converted into a Spring Board, which helps enhance users' stability by challenging not only their left-right balance, but also front-back balance for a full balance workout.
The board comes with detachable bands that allow users to control balance difficulty while also working their shoulders, chest, triceps, abs and legs. The bands allow users to perform 16 different plank and push-up positions to get ripped abs and build muscles in their chest.
The Buff-up board was developed by 202BPM, a start-up specializing in creating convenient fitness products that deliver quick, effective workouts at home. The company is based in Daegu, South Korea.