Capti Smart Bike With 3D Gaming Experience
BY: FG Team
6 December 2021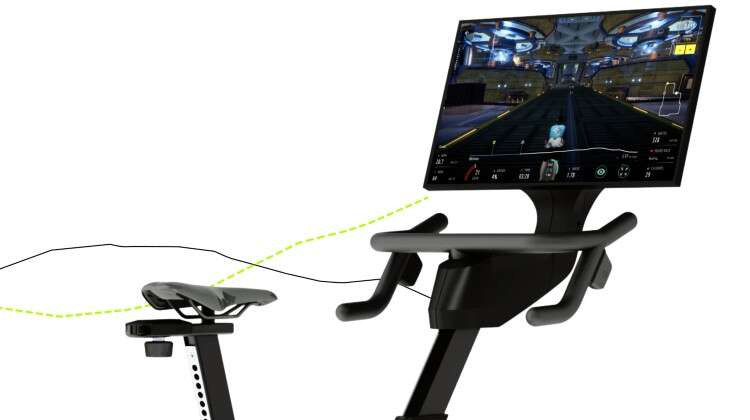 images: INTERACTIVE FITNESS
A well-known company in Smart Bike fitness equipment, Interactive Fitness, launched Capti, a two-in-one bike with advanced smart options including high-end 3D games.
A veteran company that pioneered interactive upgrades for a stationary fitness bike and got more than 3 million riders from its first Expresso connected bike 15 years ago, now delivered on its latest successor.
Fitness features and bike specs
Besides having a massive screen with gaming enhancements, Capti is also two bikes in one. A versatile at-home fitness machine can change from a road bike with features like dynamic steering, shifting and terrain adaptive resistance to a studio bike. In classic home bike mode, Capti has locked handlebars and fixed pedals. Smart bike Capti comes with patent-pending Smart Ride technology. It enables auto-configuration of steering and flywheel to match the selected workout, which results in a more immersive experience.
Another feature that contributes to a better experience is adaptive terrain resistance. The bike adjusts to the grade in the game, so when you ride uphill, it will get more challenging for you too. Similarly, it will get easier when riding downhill. Adapting to the interactive environment is crucial for gamified exercises to feel more natural. The Capti smart bike reads and reacts to users' movements 50 times per second.
Capti has studio-grade durability, modern design for home use, and it was tested up to 160 kg. The bike is equipped with a 24-inch screen with FHD resolution, toughened back glass, an antimicrobial coating. Under the vast screen, you can find a high-performance computing platform with AMD Ryzen 5 CPU. 
Magnetic resistance comes with 30 straight gears that can auto-adjust to the grade on the screen. Handlebars have adjustable height and can move upright, forward or drop. In addition, there are dual resolution magnetic pedal cadence sensors in the drive train and a single resolution magnetic flywheel cadences sensor.  It supports Bluetooth 5.0, heart rate monitors, and wireless connectivity.
Capti game enhancements
Smart bike Capti from Interactive Fitness Holdings comes with several cycling modes brought through the software on the massive monitor. The content runs on the Unreal Engine from Epic Games, which drives countless AAA video games. You will enjoy high-performance 3D video game-level graphics. Several exercise modes will make your cycling more interactive.
Virtual Cycling offers rides for all levels, from easy to extremely hard. You can ride mountain routes or opt for unusual underwater or out-of-this-world tours. Capti has three different game worlds to explore with multiple levels you can unlock. In addition, you can compare exercise results with the worldwide leaderboards and claim some bragging rights.
Heart rate training mode offers structured training through an interactive heart rate training program. In addition, the world-class MOi Cycle training method will maximize your output and performance in line with your heart rate. Studio Cycling mode includes more than 100 instructor-led classes from partner Studio SWEAT OnDemand.  Capti comes with 50 maps, 20,000 feet of elevation and more than 350 miles of trails with incredible graphics. The company is also continuously working on new content.