DribbleUp Smart Basketball and Smart Soccer Ball Deliver Effective Drills Using Augmented Reality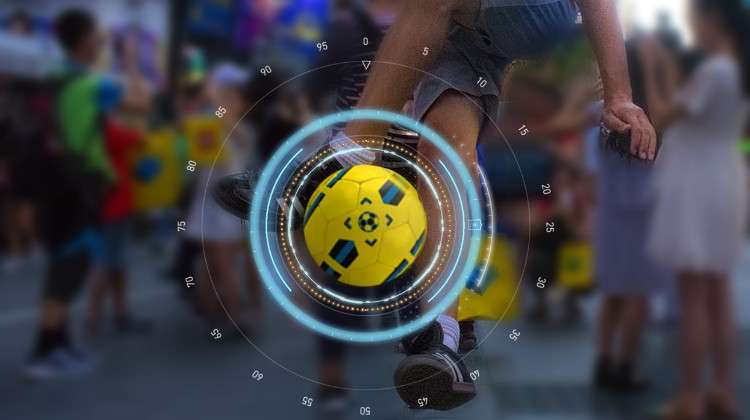 images: DRIBBLE UP
The Smart Basketball and Smart Soccer Ball developed by DribbleUp are the ultimate training tools that combine augmented reality with proven soccer and basketball drills to improve the player's performance and skills.
The DribbleUp Smart Basketball and Smart Soccer Ball are innovative training tools that use interactive feedback, virtual coaching and augmented reality to deliver effective soccer and basketball drills anywhere, at any time.
The Smart Basketball is the top selling product of its kind. It is a regulation-size ball with an embedded optical meter for patented ball tracking, developed to provide players with measurable insights into their performance and skills. The ball allows players to track a range of parameters, including endurance level, crossover speed and dribble hesitation.
Ideal for both indoor and outdoor environments, the unique training tool uses a smartphone app to deliver a range of interactive workouts designed to improve the player's skills. The DribbleUp virtual coach, available with the app, offers live audio feedback to motivate players to keep pushing themselves harder. Players tend to see improvement in their ball handling skills very quickly, with the virtual coach providing them with guidance and expert analysis.
The Smart Soccer Ball is a hand-stitched game quality soccer ball that connects to the player's smartphone via a companion app and uses the smartphone's camera to track and measure the player's movements in real time. The app tracks the ball and collects thousands of data points which are then turned into real-time interactive training feedback. The system is suitable both for home use and for training on the field. The ball is more durable than a regular soccer ball and does not use batteries nor does it need to be charged. The ball's surface is specially designed to connect to the smartphone app.
The DribbleUp app uses AR-aided instruction to deliver a series of footwork exercises that dramatically improve the player's ball control skills. Virtual coaches offer very specific feedback to guide players through various drills and even yell at them if they are slacking off. The system grades the player's performance based on several key skills – control, speed, pattern and consistency – and helps them identify the areas that need improvement.
DribbleUp is a New York-based startup dedicated to developing smart affordable tools that deliver effective training without a professional coach or trainer. The company's training solutions are based on insights gained from hundreds of professional players, coaches and youth athletes.
Watch the video below to see some of the training and tracking features available with the Smart Basketball.