Ergatta Interactive Rowing Machine for Your Living Room
BY: FG Team
27 January 2022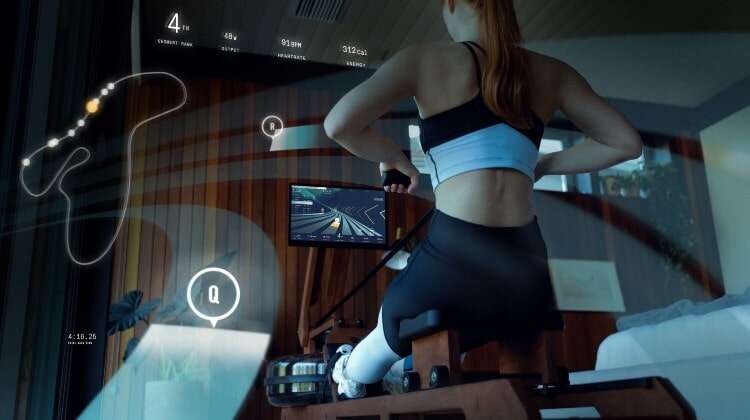 images: ERGATTA
Ergatta offers gamified exercise with interactive rowing machines that provide competitive races from the comfort of your living room.
The Ergatta is a personal rowing machine designed for your home that can be left out or packed away in an upfront position, so it can be conveniently hidden in a closet or other space when not in use. It is on wheels and can be moved and put away by an averagely strong person. It comes in a cherrywood frame which is much more appealing than a standard-looking gym rowing machine. 
Ergatta provides the ability for home users to get an effective workout without needing to go to a gym. It would appeal to many cardio enthusiasts who want a more substantial cardio workout away from the gym and rowers looking for an interactive rowing machine that offers game-based training and even competitive races from home.
It weighs 103 lbs when filled with water and 76.5 lbs without water; when stored away out of sight, it is only 22.5" high, when out and being used, it is 86" long, 40" tall, and 23" wide, so is a reasonably compact machine. The limits on the user are 6'8 tall, and 500 lbs, users outside of these limits should not use the machine. Attached to the interactive rowing machine is a 17.3" digital display screen, which can provide basic information such as time used, strokes, and distance. It's also Bluetooth enabled to connect to digital devices such as heart rate monitors and has Wifi to connect to audio devices.
The Ergatta provides a full-body workout through its gamified exercise programs by engaging your legs, core, and upper body, and while it does have a focus on the legs, it still manages to activate and engage 86% of your muscles, which is more than most other cardio machines provide. An issue many people experience with at-home cardio is its impact on their knees and other joints. With a sit-down rower, there is no impact on any of your joints, so it is a much better option for older or injured people, though workouts are intense. The workouts range from open and scenic rowing to interval (HITT) workouts, or even competitive races against other Ergatta users via the internet, so it provides options for every skill and activity level.
Ergatta's subscription service delivers more options through digital display. With the subscription, you get multiple profiles for each user in your house, access to the game-based rowing challenges, 6+ new workouts added every week, personal dashboards and history tracking, and the ability to have competitive games and races against other Ergatta users via the internet.
To get a visual overview of the Ergatta in action, watch the video with Colin Kaepernick below.