Holodance Challenges Players to Dance with Dragons
BY: FG Team
7 September 2016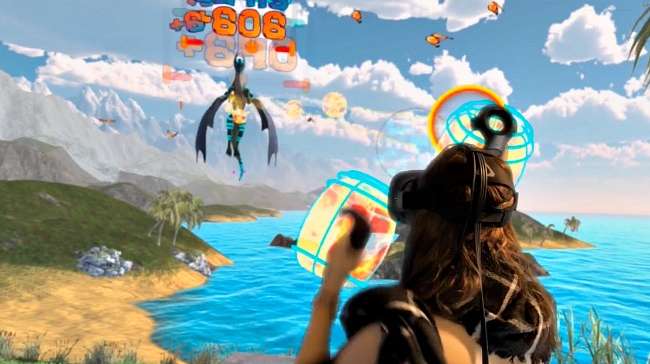 images: NARAYANA GAMES
Holodance, a multiplayer VR music game developed by narayana games, is an immersive, collaborative rhythm game that challenges players to improve their musical skills while giving them a solid workout.
Holodance is a collaborative VR rhythm game that invites players into a world of dragons and tests their musical and rhythm skills while also giving them a good workout. The standard version of the game will feature 12 songs in the techno, dancehall and electronic style, and more songs in other styles will be added over time.
The initial release, Holodance Episode 1: Dancing with Dragons, challenges players to follow perfectly timed instrument tracks while dancing with dragons. Each of the songs available with the game has several tracks – bassline, bass drum, and melody – with different rhythms and complexities, and a natural progression of difficulty. As players progress through the game, touching a minimum of notes per track, new tracks become available and, once the players have made it through all the tracks of a song, a longer, more difficult song becomes available to them.
Players can touch the notes in several different ways. The notes for the drums take the shape of orbs that come flying toward players, who much then touch them with the right timing. The notes for softer instruments appear as paths that players must follow at just the right pace. There are also stationary orbs that appear in the game and these can be tapped in any sequence, as long as players get the rhythm right. The game has a collaborative multiplayer mode, allowing players to work with their friends to get high scores.
Holodance was developed by narayana games, an independent game development company specialising in creating sustainable games and fun VR gaming experiences. Based in Munich, Germany, the company is dedicated to developing creative, cooperative games and applications for mobile, desktop and virtual reality platforms. Holodance is currently available on Steam, with a full release planned for October, including versions for Oculus Rift +Touch and PlayStation VR. Watch the first mixed reality trailer for the game below.