Kurio Xtreme Tablet Offers Motion Games for Kids
BY: FG Team
20 December 2014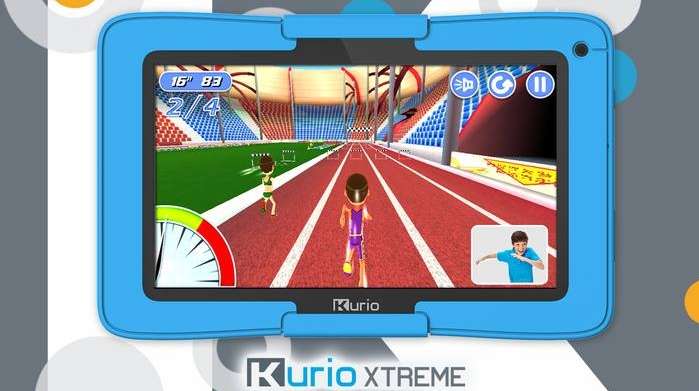 images: KD GROUP, KURIO, KURIO UK FACEBOOK, KURIO USA FACEBOOK
The new Kurio Xtreme is the first tablet that offers motion control gaming, letting children move, kick, run and jump to play a variety of exciting active games.
Kurio Xtreme is an Intel-powered tablet pre-loaded with content for children and parents, including interactive motion games, e-books, parental controls, and educational content. The tablet offers safe web surfing and advanced controls that enable parents to allow or block apps and set playtime limits. Kurio allows up to eight users to set up unique profiles. The tablet uses the latest version of Android and includes a music player, video player, speakers, front and back cameras, and a 7-inch multi-touch user screen.
The motion games available with the tablet challenge kids to run, jump, race, swim, ski, and engage in other physical activities to play. Along with these, Kurio Xtreme offers access to more than a million Android apps and games, as well as a large collection of e-books with Google Play. The tablet has 16 GB of internal memory and allows children to surf the web, write emails, watch videos, take photos, and record videos. It comes with more than 90 pre-installed apps and games, social apps for kids, music, videos, and more than 150 e-books. Users can download new content directly from Google Play.
Kurio has teamed up with Common Sense Media, a leading independent non-profit organisation dedicated to empowering children to thrive in the world of the new media, and offers two apps developed by the non-profit. The Digital Passport app uses a game to teach children to surf safely and responsibly, while the Kids Media app was created to get reviews, advice on apps and other content, and age-based ratings.
Kurio Xtreme was developed by KD Interactive, a company with an international team of specialists in different fields, including engineering, science and education, that specialises in the development of advanced educational technologies and platforms to captivate kids aged 2 to 14. The Kurio product range was first launched in 2012.
Watch the Kurio Xtreme demo video to learn more about the tablet.