Nagual Dance Turns Dance Moves into Music
BY: FG Team
17 October 2014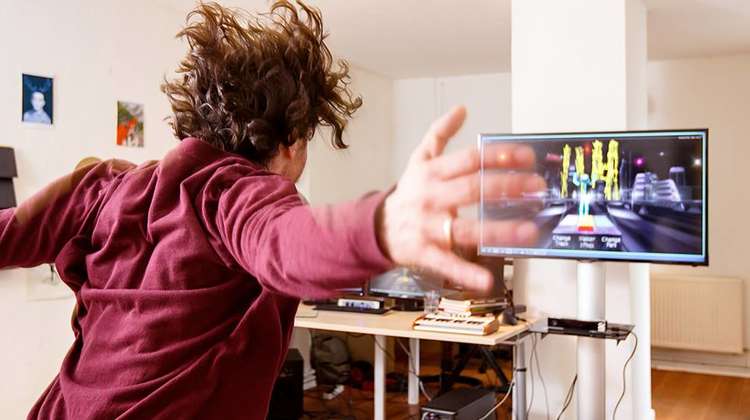 images: NAGUAL SOUNDS; NAGUAL SOUNDS FACEBOOK
Nagual Dance is an innovative interactive dance game that uses Nagual Sounds technology and Kinect to transform users' movements into music.
Nagual Dance is an innovative dance game that uses Kinect to deliver an entirely new experience to users. Instead of dancing to various popular tunes, users can now create the music themselves through their own movements. The innovative technology effectively allows users to experience their bodies as musical instruments and act as composers, conductors, DJs and orchestra all at once.
Nagual Dance technology captures users' movements in front of a 3D camera and lets users create their own custom tracks. The Kinect camera transmits the movements as data to a laptop or PC and the Nagual Sounds technology converts the data into music, generating specific harmonies, rhythms, and melodies, all in real time. Different body parts control various instruments and musical elements, and it is up to the user to get creative and decide how to play with them. The individual tracks can be saved and shared with friends.
To play Nagual Dance, users need a PC or laptop, a Kinect camera, and a screen, projector or TV. They can select different soundscapes to explore different music styles and, in the process, they will pick up basic musical skills in a fun, intuitive way. The soundscapes are interactive pieces of music that have their own selections of sounds, rhythms, and effects. Each soundscape has a specific mood and tempo, and different soundscapes can be combined into unique tracks. Users don't need any special skills to create music because they can discover the options intuitively and just play with them. As each person moves differently, the tunes themselves are always different. The game also supports a two-player mode, allowing users to create music with their friends.
Nagual Sounds technology has introduced an entirely new way to produce music and generate melodies using data paths. The software can use data from cameras, sensors, and all kinds of different sources, ranging from brain waves to weather data.
To learn more about the technology from its creators and see how it works, watch the video.