Rollio Takes Console Gaming Outdoors
BY: FG Team
8 February 2015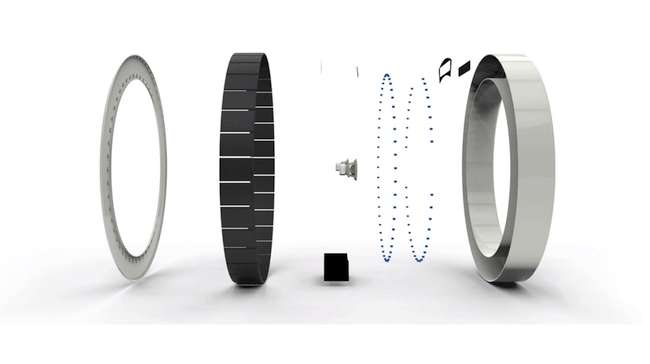 images: GEEKYBUDDHA GAMES
Rollio is an innovative Xbox-like gaming platform that takes console gaming outdoors, keeping children away from mobile and television screens.
Rollio is a new smart gaming platform that combines the benefits of outdoor play with the fun and excitement of console gaming. It is a wheel-shaped toy that activates an interactive sound-based fantasy gaming system when a child rolls it and runs after it. The system guides kids through the games and reacts to their actions, engaging them in a wide range of activities.
The interactive wheel is equipped with sensors and tracking technologies, including a gyro, accelerometer and GPS. Kids can use Rollio to play a variety of physically active games, such as Shooting, Racing, Treasure Hunt, Find My Marks and Map Explorer. To get started, they must download any of the Rollio-compatible mobile games from Google Play or the App Store and sync them with their Rollio. The game doesn't use a remote control. To play, kids only need to push the wheel.
The games available with Rollio are highly immersive. If, for instance, kids are playing a jungle explorer game, they will hear the sounds of the jungle as they chase fantasy tigers and elephants. A software development kit for Android and iOS will be released down the line to allow third party developers to create new apps and games.
Rollio provides children with a fun, addictive alternative to playing games on the iPad and it offers parents a powerful tool to limit the amount of time kids spend in front of a screen, without having to enforce restrictions. The device compels children to go outside and play, and encourages them to be physically active. Rollio's greatest benefit is the improvement in overall health and fitness that comes with increased physical activity.
Rollio was designed for children aged 6 to 16 and it comes in three different sizes. It uses a rechargable Lithium-ion battery, which can last for days, to offer children hours of interrupted play. GPS enables parents to track their children's location at all times.
Rollio was created by Geekybuddha Games, a company specialising in the development of innovative board games, card games and electronic toys. The company was founded in 2013 and is based in Phalodi in Rajasthan, India.