Samsung Presents Cyberbike at CES 2013
BY: FG Team
30 January 2013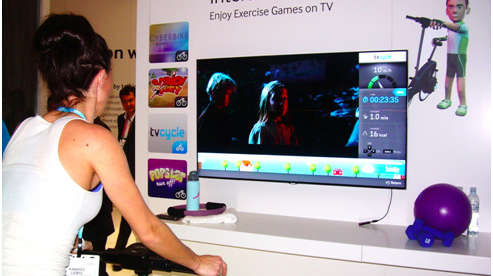 images: SAMSUNG, MNXMINDIA.COM
Samsung presented the Cyberbike, a new interactive fitness bike, at CES 2013, which ran from January 8 to 11 in Las Vegas.
Samsung is one of the major technology brands that have made a foray into the fitness gaming market in recent years. This year, the company presented the Cyberbike, an exercise bike that lets users burn calories while playing games on their Samsung Smart TV. The fitness bike, showcased at CES 2013, is compatible with Samsung Smart TV from Series 6 to 9 of 2012 and Series 5 to 9 of 2013.
The Cyberbike is designed for cardio workouts and endurance training. It is a wireless device that uses radio-frequency communication to send signals to the adjustable tension control system and magnetic resistance. Pedal resistance can be adjusted to suit different fitness levels and abilities, and pedalling speed is transferred in real time.
The Cyberbike can be used by the entire family. It has moving handlebars, a TV remote holder and an adjustable seat with seven different height options. When the user lifts from the seat, a switch in the bike's saddle activates special game features.
Four games available at launch all have a fitness mode and an arcade mode. The fitness mode allows users to create a personalised fitness program and includes a virtual coach. The games include Cyberbike Cycling Sports, which lets users ride in different virtual settings – a forest, a village, or a canyon – and try to avoid obstacles while grabbing different coins. For users looking for a real physical challenge, the CycloRail mode asks them to keep pedalling in the mine to collect all the coins. They need to ride fast and brake suddenly to steer clear of the obstacles.
The TV Cycle application lets users cycle while watching TV and displays real-time data about their efforts, including distance travelled, calories burned, speed and personalised objectives.
To see the system at play, watch the video.