Cyber Coach Interactive Games Brought to Clifton Primary School
BY: FG Team
21 October 2013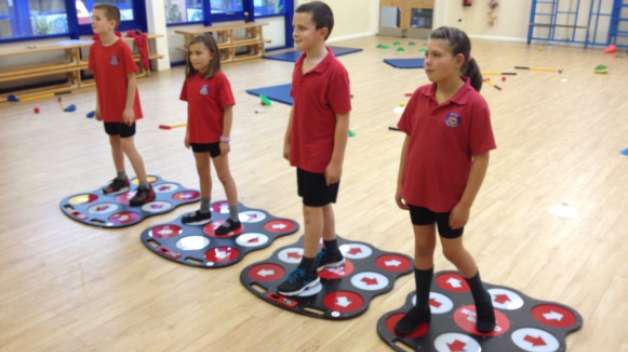 images: BLACKPOOLGAZETTE.CO.UK, PECTRUMLEISURECENTRE.CO.UK
Cyber Coach interactive games have been introduced to the Clifton Primary School in St. Annes.
Cyber Coach systems have made their way to another primary school, the Clifton Primary School in St. Annes. The school on Clitheroe Road was awarded funds in the amount of £9,460 from the National Lottery to buy Cyber Coach games to facilitate teaching a range of lessons and make learning more fun for pupils.
The Cyber Coach equipment purchased by the school consists of a computer unit and seven interactive mats on which the children stand to answer questions. The interactive game has shown time and time again to be popular among school age kids and is used in a number of schools in the UK and other countries.
John Atkinson, a teacher at the Clifton Primary School, told the Blackpool Gazette, "It can be set up in classrooms and they are best described as dance mats which children step on to press buttons, depending on what comes on the screen." Explaining the benefits of the Cyber Coach game in schools, he said, "The lessons range to everything from foreign languages to maths and the reason it helps us is because it's physical activity for the children. Clubs are benefiting from this and it has also been brought into lessons."
The teachers will first need to master the game themselves. Atkinson said: "The system is still new to the staff and we still need to train them up on it. I've used it and the headteacher has seen it and we are rolling it out in lessons, so it's certainly a way of interacting with the children and helps teachers."
Cyber Coach products aim to get children active and moving. They were initially launched in 2008 and have been used across the UK, the US, Australia, and Singapore. In December 2012, the company announced that Cyber Coach systems had been purchased by 1,000 schools and, in June 2013, they made Cyber Coach Smart available to all primary schools for free to celebrate the National School Sports Week.
Cyber Coach Smart is designed to incorporate regular physical activity and fun dance sessions into schools' daily routines, and to motivate school children to get moving. The system allows teachers to provide pupils with a wide range of dance sessions, which are streamed to interactive whiteboards in the classrooms or halls. The dance styles available include Disco, Salsa, Cheerleading, Ballet, Step, Body Poppin', Hip Hop, and Street, and the Cyber Coach system offers sessions for a variety of purposes, from warm ups to entire routines.
Cyber Coach offers hundreds of hours of classes, which means that teachers do not have to repeat the same routines over and over and that they can easily find something for every occasion.
By providing a fun way to exercise using wireless dance mats and projection on a screen, Cyber Coach games help kids improve control, balance and coordination, and to get a full body workout. Cyber Coach offers two types of curriculum content for use in schools. One includes dance sessions designed for physical education classes at key stage 1 (KS1) and provides lesson plans, evaluation sheets, and the teaching of the relevant vocabulary.
Other options include dance mat games designed for students at key stage 4 (KS4). These games feature math and PE questions and consist of multiple choice questions for students. They are an excellent way of revising lessons, especially at the end of classes, as they provide a tool for kinesthetic learning, which can be very helpful to pupils who have difficulty learning by reading and watching.
The new Lotto draw, which made it possible for the Clifton Primary School to purchase Cyber Coach, was launched two weeks ago. It is hoped to hand out thousands of pounds in funding and benefit even more groups and schools in the future. The tickets cost £2.